Tuesday, January 25, 2011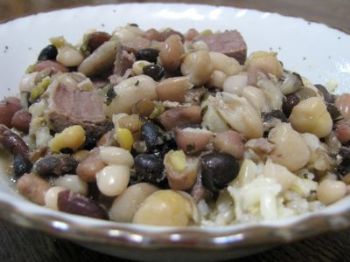 This recipe is the bomb diggity (yeah, I aged myself A LOT right then! LOL!)
The soup's WONDERFUL smell is wafting through the air as I type this and my stomach is growling growling growling and I'm salivating b/c I know how it tastes!
Nom Nom Nommmmmmmm
Here's the recipe if you so desire!
12 Bean Soup
2 cups washed & drained 12 bean mix
1 or 2 ham hocks
1 tbsp Mrs. Dash No Salt Seasoning
2 tbs. parsley flakes
1/4 tsp. black pepper
1 large chopped onion
1 cup chopped celery
2 cloves minced garlic
16 oz can stewed tomatoes (Optional - I use with or w/out)
1/4 cup lemon juice
2 lb. smoked sausage (diced) (If you use ham hocks or ham chunks eliminate the smoked sausage.)
Preparation
Wash & drain dried bean mix. Place in a large bowl & cover with water to 2 inches above beans. Soak overnight. Drain & place in a crock pot. Add 2 quarts chicken stock, Ham hocks, Mrs. Dash No Salt Seasoning, and rest of seasonings Bring to a boil, cover & cook 2 hours on high temperature Add remaining ingredients & cook over medium heat until tender (6 to 8 hrs.). Stir occasionally. Serve over rice.