I went shopping today. I needed some more long-sleeved tees. I practically live in them now...I'm ALWAYS cold...and 4 just doesn't cut it. Not unless I want to do laundry 2 or more times a week. I have 4 kids....soooooo do not want to do laundry more than I have to. So off my 2yo and I went to do some shopping.

I immediately headed for the XL section. Looked at a couple of tops and pulled one off the rack. I held it up and laughed at myself.
"You haven't been here in a couple of months now, Heather.", I said, putting it back and heading down the rack.
Past the 'Large' section.....and stopped at the 'Medium' section. I found a few I liked, pretty sure that they weren't REALLY mediums, but got them anyway. Then I thought, "Why not?" and headed to the 'Small' section.
This is one of the three, yes THREE, 'Small' long-sleeve tees I bought today.....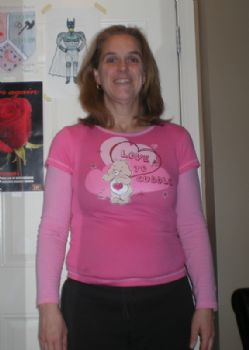 AND THEY FIT!
I am still a little stunned. I never even hesitated to look in the 'Small' section, never mind buy it. Imagine my surprise when I got home and they fit....nicely, too. I am constantly and consistently amazed at what I have been able to accomplish in the past 8 months. I have lost 76lbs and gone from a size 20/22 to a size 10/12.....that's down FIVE dress sizes! OMG!

So, to you dear SparkPeeps, I say 'Thank you.' Thank you for supporting me. Thank you for listening to my whining and celebrating my successes. Thank you for helping me to overcome obstacles and vent when I needed to. Thank you for being there, even when you didn't know you were. You are all absolutely AMAZING people and I am such a richer person for having you all in my life.

A toast......to ALL of our successes!