Friday, January 21, 2011
MEAL EXAMPLE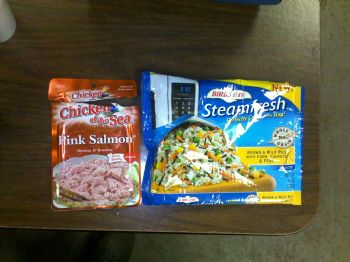 COST $2.07 at walmart
3.5 g fat
18 g Protein
Cholesterol 25 mg
Sodium 380mg
Fiber 8g
Total Calories 450
CHEAP WHOPPER.....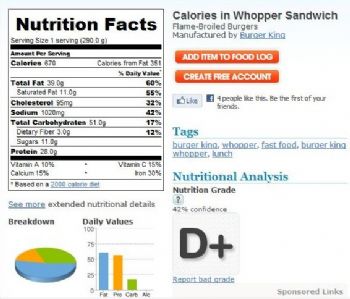 In case you cant see the printout...
670 calories
39g fat
11g saturated fat
95 mg cholesterol
3 g fiber
1020 mg sodium
28g protein...
any questions?
I question i get asked ALOT is what do I eat?. I guess the idea is that i'm going to reach into my magic hat and pull out some magical powder that you sprinkle on dinner or some ready made diet plan boxed dinners, basically, something special. I dont do any of that at all and i dont want to. I dont like being tied to anything that I cant get anywhere at anytime, to be at the mercy of some stupid plan that makes the originator rich.
I basically do what is recommended, fruits, veggies, low fat yogurt, lean proteins like salmon,tuna, chicken breasts, beans etc.... Thats it, nothing hocus pocus.
there is some weird concept that eating healthy is a pain in the butt, expensive and time consuming. not true... just gotta be creative and go a little outside the box. most breakrooms have microwaves and a fridge. i love my steamables, add a lean pretein and presto, instant healthy meal, season to taste in about 6 minutes and costs far less than those ready made diet prepackaged sodium disasters in a box. - just a suggestion.... and cheaper....