I've been having a lot of problems lately with obligations. You see, there are two different kinds of obligations - those that you agree to (dinner with a friend, showing up at work every day, scheduling a morning run or an evening zumba class, general housework, etc.) and those that you don't (a work project that is forced on you, drop in company on a Saturday afternoon, having to pay for an expensive car repair, you get the picture...).
While I tend to pack my life very full of obligations that I agree to, it has come to my attention in the past couple of months that there is a big imbalance in my life between welcome obligations and unwelcome ones, or things that people just expect of me without asking my permission about them. And that is NOT cool.
This imbalance is throwing me off my game. That big, fat "I Don't Wanna" hat that I've been sporting for the past couple of weeks is due to this imbalance. Since we tend to lump ALL obligations into the same category and since I am harbouring hatred in my life for all of the people and situations that have been put on me since I got back from Germany, I have confused my desirable obligations with the things at which I am truly angry. And this is helping no one. I don't want to run in the mornings because my boss expects me to finish a huge project by the end of January that is not in my job description. I don't want to leave my house to spend time with my friends because my staff called and woke me up early on Sunday morning (during my personal time) with an issue that needed to be fixed immediately. These two things have NOTHING to do with each other, but in my mind, they are all things that I HAVE to do, and because I am angry about one of them, I have therefore become angry about all of it. And when I'm angry I cover up the emotion with one of three things: food, sex or shopping - the Band-Aid vices to which I cling when I don't really want to feel what I'm really feeling.
I'll be honest - most of this has to do with some issues at work right now. But so much of my personal life overlaps with my work life that it is impossible for me to separate the two into two different issues. My "ME Project" is a full time job in and of itself. This journey for me is much deeper than what is spelled out here on Spark; in my blogs, on my page or on the message boards. In order to revamp my life, lose weight and become an overall healthier person inside and out, I am devoting a ton of time and attention to ME - my behavious, my interactions with people, my food, my exercise, my reactions to situations - I'm working on all of this all of the time, and so a lot of what I accomplish with regards to my "ME Project" just happens to be while I'm otherwise on the clock at work. Thankfully I have the perfect job to be able to devote time to both it and myself in a day. I love that. What I don't love is when work throws me a curve ball that opens up something new in my "ME Project" that I didn't know existed before but that becomes a huge issue in both worlds until it is addressed. If left unaddressed I start to resent my day job AND reach for the fast-food/sex/retail therapy fix - because two negatives make a positive right? Right? Not so much.
My other issue with unwanted obligations is that I tend to have a bit of a Wonder Woman complex. When something is broken, I have to fix it. It makes me feel important. But that can also backfire when the thing that you have to do doesn't have a sure-fire positive outcome. Superheroes aren't supposed to fail. And I'm not sure this time around that I will succeed. Big, stupid, Kryptonite curve ball.
The first step in figuring out this curve ball was in defining what in my life is a welcome obligation and what is not. I could point to the things that I wanted to do, and I could point just as easily to the things that I didn't want to do (which until today was pretty much everything). But it took some work to dig deep enough to find the true culprit of my anger which was causing this ripple effect of negativity through everything that I have on the schedule. Knowing what I'm really angry about is one thing, fixing it is quite another. It's going to involve work. But being able to understand the cause and effect in this case of my reasons for rejecting all of the good things that I've been putting into my life lately is a relief. Now comes the hard part of learning to accept and love and DO those healthy things again, whilst still being angry about this work situation and not letting one affect the other.
This is a pretty big step for me. This is the point at which I would have quit before. This is the place in the past where things would get too hard, too personal, too unmanageable and I would give up. Give in to the vices and throw my hands in the air. But not this time. I can see my anger this time and I'm not going to let it get the best of me. Yes, I am still obligated to do the thing I don't want to do. But there are ways around it and people who can help and I do not have to hold myself 100% accountable for the success or failure of this project. I am laying down the Wonder Woman cape. I do not have to save the day this time. I will do the best that I can with what I am being given and if I do fail I'll figure it out then.
In the mean time, my running schedule, healthy food prep and personal life shouldn't suffer. Wonder Woman needs to rock her Spandex suit!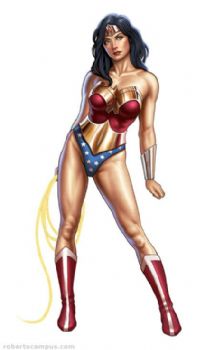 *Pic courtesy of www.robertocampus.com