Goal for the week - 1st run...
Thursday, January 20, 2011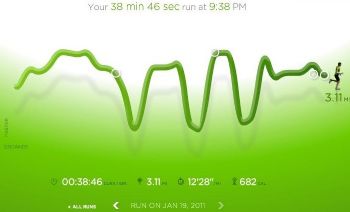 Last weeks goal was 4 5K runs - Goal met
this week 2 5K's and a 10K
- notes - there is a reason why pre-run eating is important and what you eat especially. had meatloaf and mashed potatoes - STUPID ALARM GOING OFF-
I didnt listen to the IM STUPID alarm and ran anyway. as you can see from the chart that I was dragging a boat anchor through the whole run. I did good on my time but the effort was off the charts - BAD CHOICE MADE.. - YUCKY!!!
next time its gonna be a bagel.......
thanks for all of the high fives yesterday, I love all of the support that I get here.