Thursday, January 20, 2011
So I've been on Spark for over a year and this is my first ever blog post!! O well - later is better than never huh? :)
Well the reason I decided to post is because I feel as though I am starting to actually overcome some of my demons as far as binging,etc. and I feel much better mentally and physically than I did when I was losing weight on here last year. The first 20 lbs I lost using Weight Watchers and it was so easy to lose and maintain but of course Weight Watchers wasn't as focused on actual nutrition just the calories but when I came to spark and tried to get in my fruits/veggies, water, etc I was good for a few months and dropped to 120 then went haywire! I sorta restarted again Dec 25 with good intentions for a couple of weeks then fell off the train again when some personal issues came up. Now I realize I am a stress/bored eater. I no longer watch tv for longer than about 30 minutes a day right after I eat or work out due to my needing to eat while I watch (terrible habit I know) Now I have replaced most of my tv time with workout time and it all seems to be working out well.
Ok enough of the jabbering I figured I'd finally post some swimsuit pics since I can finally fit into this swim suit that I bought last year in hopes I'd be getting into it this year! I bought a medium bottom and small top and this is the first time since I was in high school that I was able to wear a medium bottom!!! I still have some toning to do and would like to lose a few more lbs to get my BMI a bit lower and lower my BF%. I got a couple of new toys yesterday from Amazon (picture to follow) and it was part of what inspired me to post this blog.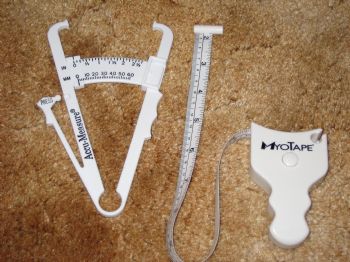 http://www.amazon.com/AccuMe
asure-MyoTape-AM-3000-Fitn
ess-Personal/dp/B002VAPHXW
/ref=sr_1_3?ie=UTF8&qid=12
95542615&sr=8-3
Measurements as of 1/20/11
Weight: 125
BF%: 27.6%
Neck: 12
Bust: 30
Waist: 26
Hips: 36
RThigh: 21.5
LThigh: 21.5
RCalf: 14
LCalf: 14
RArm: 10
LArm: 10
I went a little picture happy this morning when I got up at 6:00 on my day off! Crazy me! But i got some pretty good shots except for a couple where I was looking a lil too rough and had to block out my face lol!