second 5K of the week...
Tuesday, January 11, 2011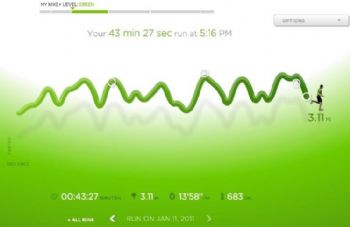 just a quick note to post accountability. Did a second 5K treadmill run for the week. as you can see from the chart, I have been struggling. Breathing is still a privilege not a right but it is getting better.
My goal is to get in 4 5K runs in this week. I am not shooting for any particular time, just being consistant. David Goggins, Navy Seal and Ironman Triathlete stated that to be the best in either the SEALS or the Ironman, you have to be consistant not perfect. - my paraphrase.
I am in recovery so there is no sense in comparing what I am doing now with what I was doing last year... that was then, this is NOW and NOW is what we have to work with... This is what the Spark is all about, taking small steps and striving for consistancy. If I cant pull off a marathon, then I am determined to run my strongest half marathon to date. I will evaluate where I am really at training-wise and determine it then but I wont give up simply because of a challenge. not by a long shot, i want the woo hoo too much.