Tuesday, January 11, 2011
Today is a snow day!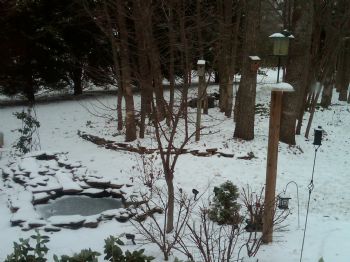 Registration was very tiring. I was happy to work without breaks or lunch most days to ensure that every student who wanted to register, pay their bill, check their e-mail, or use their student ID was able to do so. I moved equipment around too as needed for the offices who wished to be present in the library to help students. I solved several software system problems as well.
My husband had to go to work today, but made it safely. I am so thankful because the roads are very bad.
I am greatly enjoying the Spark People Boot Camp team! The 10 minute workouts are interesting and very challenging and a very good use of my time. It is amazing what I can accomplish in just 10 minutes. I already had all of the equipment needed (an exercise ball and weights). The plan has inspired me to be much more active. Today, I plan to shovel snow later.