Monday, January 10, 2011
When we went to the grocery on Saturday, I bought some good fruits and veggies. Yesterday, I got my kitchen all cleaned up (ah, that feels good) and then I got my veggies all washed and cut up and "contained." I thought the fridge looked so pretty that I would share it with you.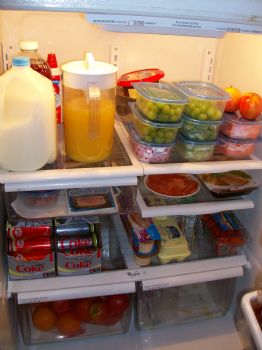 Isn't it "pretty." I feel very healthy when I open the fridge door. I took the Spark People advice that was in their "No Excuses" about Fruits and Vegetables article. They said you should put your freggies on the top shelf, so they're right there...easy to grab and in clear sight when you open the door. We'll see if it helps me with my freggie consumption this week.
So far this week, I've been in range for everything all 3 days...Sat, Sun, and today. Today, it "just happened." But for Sat and Sun, I had to have a snack that included the things I needed to reach my numbers for protein and carbs.
The scale really isn't moving right now. But I am trying to focus on the fact that I have lost, I'm happy with the progress I've made, and I'm eating healthy...a changed individual inside. It's all good. The scale will move. I will not fret about it. Just going to keep on...and keep positive.
Hope you are all having a great week! Spark on!