I have struggled w/a lot of anxiety & stress in 2010 & even more so in Nov & Dec 2010. There were some major life decisions being made & the process of making these decisions were so long drawn-out & unknown for so long it just led me to gain nearly all my weight back (30+ lbs).
So here I am, week 2, in our new home of WA state & I've joined a gym (I was so excited about having a gym so close that I joined before we even moved, lol). Last week I signed up for the Biggest Loser Challenge that started today & ends on March 5th. I'll be chronicling weekly here on this blog until the end of the challenge.
Today was orientation: paperwork, weigh-in, measurements, fat percentages, "before" pics, & team & individual assignments.
Weigh-in: 167.8 lb
Measurements:
Waist - 36.75"
Chest - 36.75"
Hip - 38.50"
Thigh - 23.25"
Arm - 11"
Fat %: I didn't get a chance to write down but will be getting in an email later
"Before" Pic: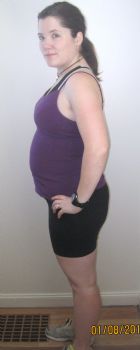 Now this is my personal "before" pic. The official one was taken w/out my purple tank...yes, that means I personally opted to go shirtless (obviously w/my sports bra) for the challenge "before" pic!!
Team: Yellow w/18 other teammates (soooo excited about this part!!)
So I met this amazing woman who was standing in line w/me. She's 78 & is in amazing shape. She works out daily (& it shows), she's doing this challenge w/her daughter-in-law. This 78 yo woman works out on the rowing machine, elliptical, treadmill, bike. She has beautiful bright blue eyes, glowing skin & a smile that just held me in conversation w/her for a long time. I left her energized & revamped just having had conversations w/her...what it would be to be 78 yo & still be going strong! Wow.
First place for the men & women receive $1k!! Second place is $800!! There is also a 1st place team winner (prize is unknown @ this time).
The challenge is based on:
Weekly percentage of weight loss
Assignments completed & turned in on time
Attending last chance workouts
Total percent of body fat loss
Total inches lost
Extra points for attending team challenges & health seminars
Seminars look awesome!! It includes:
How & Why to Keep a Food Journal
Knowing When & How to Change Your Exercise Routine
Importance of the Foam Roller
Why & When to Supplement
The Core, What To Do
I purchased a training package which entitles me to three 1 hr sessions w/a personal trainer. What I need to learn the most: how to deal w/"life" in a healthy way.
I feel like I took some healthy approaches to 2010 (I went to yoga often, took up meditation, forced myself to take "me days", achieved all my fitness goals despite weight gain) so I'm not considering 2010 a failure in any way. I'm realizing that I need to tweak more to find a good balance to "maintain my emotional & mental self". I'm seeking insight on this from my trainers, teammates, friends...& then really learning a way to implement it more.
So that's where I'm at today. It's a good place to be