Sunday, January 02, 2011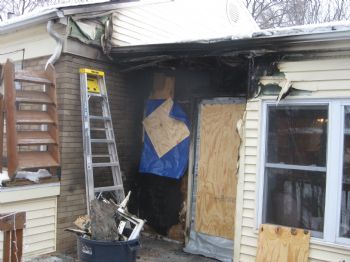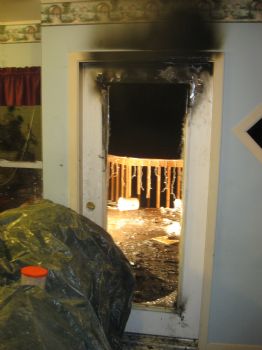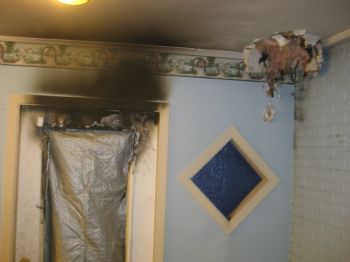 Here are our pictures from our house fire. It happened on Tuesday, December 21st. It made for an extra hectic Christmas. One of my children had made a microwave chex mix recipe, but after just 3 minutes in, it started smoking... not wanting to fill the house with smoke, it was placed outside the house on a large Rubbermaid container (that held our lawn chairs and cushions for our patio furniture) that was covered with a foot of snow. Evidently, the oxygen hitting the hot coals of the gardettos in the chex mix and the butter, started the fire. We did not hear or smell it, because the house already had a smokey smell. The neighbor's birthday happened to be on December 21st, so they were planning a birthday party, and the sister and her husband arrived and smelled smoke. They went looking around to see where it was coming from, and found a rather large fire at that point on our deck. They ran around to tell us, when I went to look, I could see the fire in the door window and our siding was actually melting before my eyes. I called 911 and my daughter and I got the dogs outside. I checked to make sure all the kids were out, and the boys started fighting the fire. Amazingly, both of my boys had dreamed the sun room was on fire a few nights before and one had made a plan of what he should do if the house was ever on fire. My husband had gone to pick up my other son from work, and had taken one daughter to stop at the store to buy more ingredients for chex mix. I called him, but he did not arrive until after the firemen got there. My boys and the neighbor actually got the fire out before the fire trucks had arrived!! The fire did get into the house... it caught the curtain and blind on fire, the rug at the door and the frame of the glass in the door. Ben threw everything on fire out the door, and beat the fire with a boot. I was glad they put out the fire, but if I knew he had been running into the house, I would have been worried SICK!!
As much as we don't like to see problems in life, especially at inconvenient times, like Christmas... we really saw God's hand in it all. My mom and dad were on their way up to spend Christmas with us, and my dad did a lot of work to get it livable for us!! At a time like this (so close to Christmas) it would have been hard to find some one willing to do it... it just happens that my dad IS a carpenter, and does this kind of work every day for a living!! We found some great sales on the doors... One of the old doors was actually rotting around the frame and we didn't know it, so we were grateful to find that problem and get it fixed! There were so many other ways too that we saw God work... and though we do not always understand why God allows these things, we know He promises that all things work together for good!!