"People are so worried about what they eat between Christmas and the New Year, but they really should be worried about what they eat between the New Year and Christmas."
So....my friends, many of you know that my mother was diagnosed last December with stage 4 colon cancer. Therefore, it was a "no-brainer" that at the age of 62, I must have a volunteer check of the aforementioned portion of my "otherwise fabulous" body parts. Well, I think they're beautiful, cuz so far, they've served me well.
My mother is doing great....!Believe it or not, she is still smiling, stronger and better than she was last December. I know....a miracle, right? That's what the Dr.'s are thinking. They can't believe their eyes when she comes in. I know that the inevitable will eventually happen. But right now....what a blessing that she is not in pain and is still smiling. My SUPERGIRL shakes have helped make her strong and she thinks they have been critical to getting her strength back. I do, too, but we all know that by the grace of GOD, she's doing awesome so far. (She's 87 years old and has had a mostly happy life, minus the death of five of her brothers and a sister before her). My father and mommy came over so that we could prepare her Christmas Eve traditional meatballs and sauce. Last year, she had to lie down to rest. This year was a joyous occasion as we chopped, minced and cooked these delights.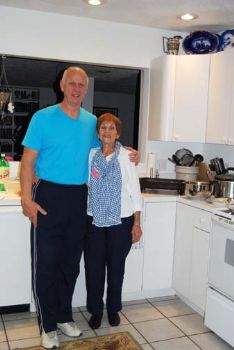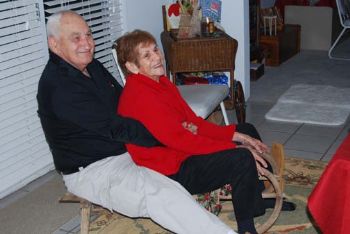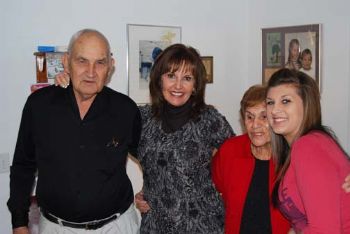 The sled is a symbol of mine and Art's long life together and the winters we spent in Germany. Nikki, our daughter was born there 40 years ago and we have lots of pictures of us taking her for rides on it as we were stationed in the Bavarian Alps during those years. Those winters hold precious memories as our beginning of our life together. Later our son, Brian, Nik, and Art all rode down a large hill by our house then and ran it into a telephone pole. Luckily, they all three baled off before it hit causing it to break. It's taped on one side, but still works just fine. We were going to take the pictures out in the snow, but we thought about it again and took the pictures in our warm and cozy kitchen with the smell of the wonderful meatballs wafting throughout.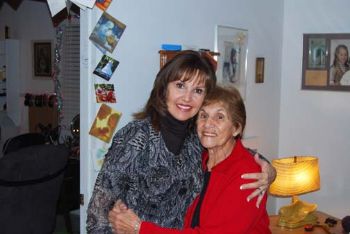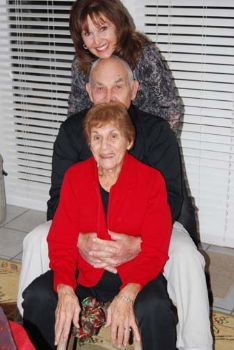 As I had already made the promise to myself to quit all the sugar and white flour Jan. 2....after the beans and cornbread......,I found myself making the commitment earier since the colonoscopy was scheduled for Dec. 28. Last night was the hard part....I am happy to report there were:
NO COLON PIERCINGS DONE 'ROUND HERE AND NO POLYPS IN SITE....CLEAN AS A WHISTLE...
TO DREMARGRL'S WONDROUS DELIGHT!!!!!!!!!!
TEEE HEEEE, TEEE HEEE.....AS I FADE INTO NIGHT,
I WILL TELL YOU MY FRIENDS,
DON'T BE AFRAID.....JUST DO IT!
I KNOW....THAT IS SOOOOO BAAAAD! HAHA....
Wishing you and yours a healthy colon, healthy body, healthy mind and a love-filled NEW YEAR 2011!!!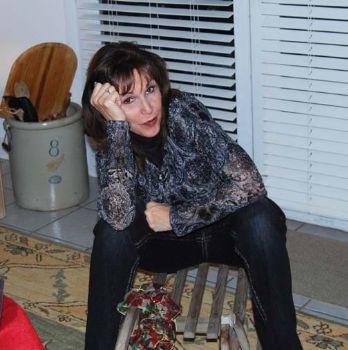 I love you, sparkies,
MaryAnn