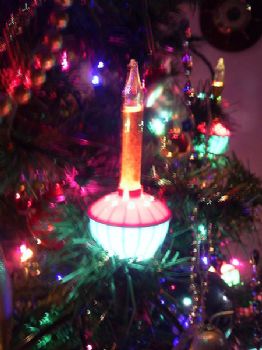 Do you remember these colorful Christmas lights that bubbled? As a child I loved watching them. They started slowly; I think they had to get warmed up before the bubbles would appear. The memory still delights me.
A few days ago I wrote a blog about my Grandma's dining table
www.sparkpeople.com/mypa
ge_public_journal_individu
al.asp?blog_id=3849515
Whenever I use it I am filled with the love my grandma shared with me.
But, my friends, I am sad to say, that was only one part of my childhood experience; the good part. I feel that I'm not being honest unless I tell you that not all my Christmas memories are delightful. I am whole-heartedly thankful for those in my life who have loved me and showed me there is kindness in the world. But another part of my truth is that I grew up in a hostile environment with family members who were so angry, hurt and depressed that for the majority of my life the nicest thing they did was neglect me.
Family "get-togethers" tended to bring out the worst in everyone. Holiday traditions included the obligatory shouting match between mom and dad, rehearsals of every wrong done by the in- and "out"- laws, and a recitation of the family motto, "Shut up and Eat!"
So I did what I was told. I shut up.
AND I ATE!
and there was a lot to eat!
Along with the turkey and stuffing I ate my sadness.
Along with the potatoes and pie I ate my confusion and anxiety.
And when I needed to feel loved I reached for a cookie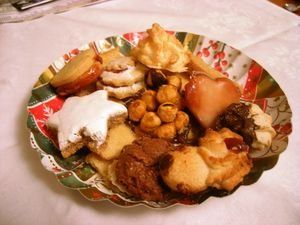 and another, and another . . .
And I confess I have continued that tradition – and not just at Christmas.
I have been eating my feelings for a long, long time and I don't want to do it anymore.
So now I'm ready to tell you another truth:
THAT WAS THEN, THIS IS NOW!
THEN, as a child, I had few choices. I did the best I could in a difficult situation.
NOW, as an adult, I am learning to choose better ways.
Now I can choose to feel my feelings (even the not "nice" ones). It hasn't been easy, but over the last 60+ years I've worked through lots of painful stuff with the help of caring people who have companioned me along my healing journey.
Now I can choose to embrace my need for love and connection by reaching out to people with whom I can form mutual friendships.
Now I can choose to use food as it was intended – for nourishment and enjoyment -- by eating moderate portions of foods that are good for me.
Now I can choose to value myself by doing all I can to care for my body through wellness and exercise.
Now I like who I am becoming. In fact --- IT DELIGHT'S ME!