A group of women who are members of my short-track speed skating club also do long-track marathon events, and I joined them this weekend for my first marathon event. Normally, there is a shorter event (10k or 25k, or both) on Saturday and a longer (40k) event on Sunday. This weekend, in Quebec City, it was the first event of the season and they staged a 25k on Saturday evening, and then a timed one-hour event on Sunday (do as many laps as you can in an hour).
After a long drive (we left Waterloo at 1:30pm on Friday; arrived in Quebec City at 11:30pm after stopping only twice), and some Saturday morning shopping, we went to the oval to practice. The event was held on the magnificent Gaetan-Boucher Olympic oval in Ste-Foy, Quebec. The ice was to be available from 11am-1pm, and the 25k event was at 5:30pm. It had been snowing since the previous night, and when we arrived at the oval, a tractor was clearing snow. To our horror, nobody was allowed on the ice! Was my first lap on a long track (400m - with a longer cornering radius, long straightaways, etc. than I'm used to on the 110m indoor short track) really going to be during a race?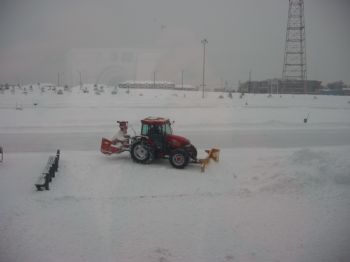 Thankfully, after a few discussions and phone calls, the fellow who maintains the ice relented and we were able to take it for a test drive. It was snowy and choppy. OK, it is what it is... I couldn't get the corners right on my short track blades; I felt like I was going to lose an edge if I pushed my left all the way through and held it, and I also was turning too tightly when I was crossing over. Again, it is what it is... my clubmate Rosie helped me to adjust my left blade, and we went off for lunch.
Here are some shots of the snowy oval: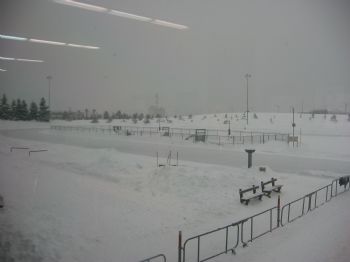 When we returned later in the afternoon, the sun had been out and snow had stopped falling, thankfully. The zamboni had been around the oval and it looked like glass! What a beautiful sight for skater eyes! We registered, got our timing chips and race numbers, quickly got dressed, pinned our numbers to the outside of our right legs, and got on the ice to warm up. It was smooth and hard, much better than earlier in the day. There was very little wind, and since the sun had set, the light standards lit up the oval. We were called to the start on the far side of the ice, and had a rolling start in honour of a masters skater who would lead the pack for the first half lap. Only 62 laps to go! The skaters all quickly found other skaters of similar ability, and formed long trains. The lead train was skating 40-second laps, the second lead train about 45s laps, and a third very big train at about 52s. I couldn't maintain this pace and dropped to skate on my own, with laps of about 58s. I skated a few laps with other members of my club, but for the most part, skated a solo race, which I felt took some of the pressure off. In pack skating, you need to have a consistent skating style, track pattern, ability to corner and hold the line, etc., and I wasn't there yet, having only been on the long track ice for a few minutes! So, I skated and skated and worked on my corners, and skated and skated some more, and finished my 25k in 1:03:01.829. That's 23.8 km/h or about 15 miles per hour, to put it into perspective. A bit slower than I am on my bike, but way faster than I can run.
After we were finished, we changed into warm, dry clothes, and went upstairs for the award presentation. To my great surprise, I was awarded a bronze medal for my age category! Now comes the kicker... there were only three women in my age category!!!!

The one hour race the next day was similar, except that I managed to stay with the pack for the first 22 minutes, so I skated two-thirds of the race mostly on my own this time instead of the entire race. What a difference it made, but I couldn't keep up the pace for the entire race. Some is due to my inexperience and lack of training, and some because I was using short track blades versus long track clap blades. I haven't tried them, but they apparently make a big difference. Next time! It was very windy Sunday morning, with 20kph wind, and gusts to 30kph. The back stretch and far end were into the wind. We would come around the start end with the wind giving a bit of an extra push, and then hit a wall of wind going about as fast as we were travelling. The back stretch was laborious, while the home stretch was relatively easy - we could recover strides and not work nearly as hard. All in all, I did 56 laps in the hour, understandably slower than the night before, thanks to the strong winds. This time I received a silver medal for my efforts... can you guess how many were skating in my category this time?

It was a fantastic first experience, and I learned a great deal from my fabulous clubmates! Next time... clap blades!