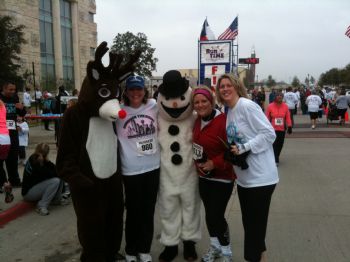 This morning my BFF and I ran the Frosty 5k in Frisco, Tx. I thought about this blog entry while I was running. Who is your buddy and can you count on them to help you with your wellness goals?
Here is the back story to that thought.... I have had some insomnia issues this week, probably surrounding my MIL's passing, illness, stress, etc. I woke up around 2 in the morning and didn't go back to sleep till after 4:30. I had set my alarm for 6:30 thinking I would get up and do YOGA and loosen up before the run. I didn't drag out of bed till shortly after 7:00 so there went my warmup. I was ill prepared for this morning and by the time I got myself dressed and out the door I had made and forgotten my coffee, had a graham cracker snack thing I found in my bag for breakfast and showed up at the run with no food, no pre-race advil and most importantly no coffee. Now if I wasn't supposed to meet Susie, would I have showed up in the windy, chilly day at all?
I couldn't complain when I heard Susie's backstory.... she was at some apparently awesome Christmas Karoake party last night and didn't go to bed until 4:45 a.m. She got up at 7:00, not sure if she ate anything. She came buzzing into the starting line about 5 minutes before the race. She had a hangover of some sort - LOL.
We decided at the time that we wouldn't go for a personal record, but our goal was to drag our tired, hungry body across the finish line for the day. We actually did run a PR...not sure how that happened. There were no markers at this event so we had no idea how far we had gone or what our time was. We just got into our normal routine with our headphones on and ran. Side by side like we always do.
Afterwards we took one of my daughters and the three of us hit the IHOP. I thought she was in danger of falling asleep in her scrambled eggs. But we did chat about some goals and the thought that we are going to sign up for our first half marathon in March. There is probably no way that we will be able to run that far, but we decided that we could run, job, walk or crawl our way to the finish line.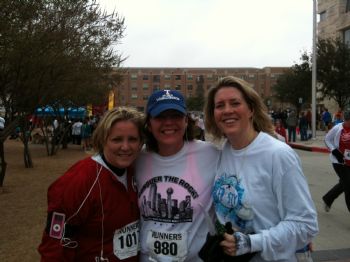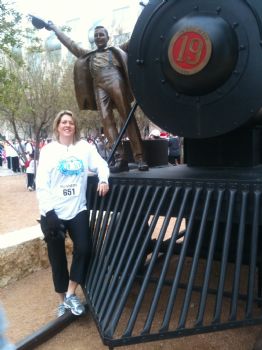 We had a third runner today so a shout out to Tracy who did her first 5K. Besides a frosty, and rudolph, there was a dancing shark!
In the end we both showed up because we knew the other one would be counting on us and despite things that could have held us back we pushed and pulled and cheered each other on to do our best.
Afterwards, Rachael and I tried on hats and bought jingle bells for our next run on December 22nd. We're doing the Dallas Jingle Bell Run which will be our first night time run.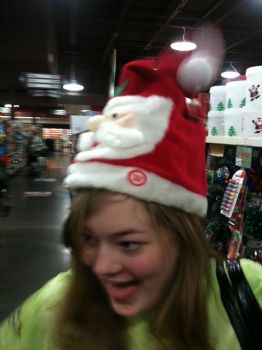 Rachael bought this hat that actually plays music and the tail of the hat dances around. That should be fun! She is running with us on this one.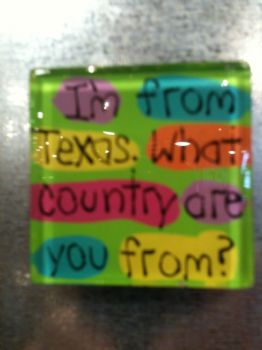 This was a cute magnet that I saw today. Maybe you have to be from Texas to get it but we are insanely proud of our state and it shows.
Anyway.... are you connected to a buddy that you can depend on? Can your buddy depend on you? Get connected with someone who will help you reach your healthy lifestyle goals!