Saturday, December 11, 2010
There are few things that make me feel better about myself than overcoming obstacles and difficulties, and doing it well. Lately I've been feeling rather introspective and gloomy and I really needed to shake these feelings and bring some joy and positivity into my life again.
I totally managed to do so this morning.
I woke up to -5 C (23F), windy, overcast, grey and dreary weather. You know the type of day when you'd rather stay indoors, playing board games with the kids all day, then curl up in your favourite armchair to read a good book, while holding a steaming cup of tea between your hands. That kind of day.
Except I didn't do that. Instead I put on three layers of clothing, lip balm to protect my lips from the cold wind, ear phones playing my favourite music.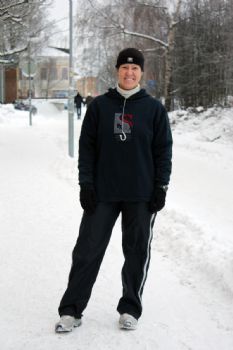 I didn't break any speed records. I wasn't even trying. I wasn't annoyed by the lack of traction on the snow. I wasn't silently (or even not so silently) cursing the snow that hit my face like angry little gnats at one point.
I was too happy to let any negative thoughts ruin the moment for me.
I was feeling strong and healthy. I was doing something that's good for me and for my family. And I was doing something that I love doing.
That's a pretty decent day in my book.