Mindful Eating, Decluttering and Trainer
Friday, December 10, 2010
I was home for lunch today and just a little hungry. I really focused on what I was doing as I had some extra time. I made an open faced tuna salad sandwich. I toasted one slice of frozen sprouted wheat bread and let it cool a bit before I buttered it. It took less butter than hot toast would take. I waited to see if I was still hungry or if one slice would suffice. Yes it did! I realized I was mindfully eating, not too hungry, not rushed and eating slowly really tasting the food. Rather just focusing on what I eat, I will also note how I eat and train myself to be a mindful eater.
We are getting our house ready to sell. We have lived here 11 years and will be moving 18 hours away. The last few years we put off buying new things knowing we would move. So decluttering is selling furniture, lamps, etc. yet keeping enough so the house shows well. I would apprecitate any moving tips you may have.
I get motion sickness performing abdominal exercises on a ball, or a mat. I looked it up online and it's more common than I thought. Having a trainer caused me to try the type of exercise I avoid, but I decided to give it a try and I am still trying to get over it or modify the exercises.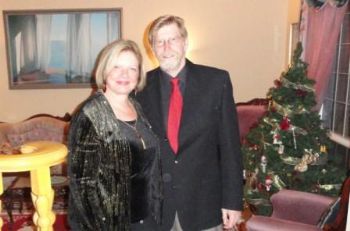 This is Alan and I before we went out dancing all night.