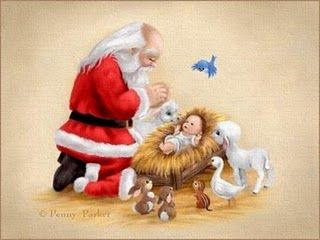 A song I wrote for Christmas:
Santa Visits Jesus
One Christmas night, so long ago
In a manger low
Baby Jesus and Santa spoke
About gifts they could bestow.
Jesus told Santa if you will do
This yearly thing for me
I will give to the hearts of man
All they dare to see.
Santa set about his task
Every December twenty-fifth
And gave to all the young and old
A yearly Christmas gift.
He shared with them what he could
Of things they wanted most
And saved the rest for Jesus
The king of heavenly hosts
For Jesus He would take His gift
And place upon the heart
Of every man and woman
He loved right from the start.
Jesus gift will never fail you
When you are down and out
Lift praises to the heavens
With a hallelujah shout!
Yes Santa may come once a year
But the Lord He'll always stay
If you ask Him into your heart
With a few words that you pray.
Santa and Jesus they had in mind
For everyone who sees
That yearly gifts cannot be compared
To the ones on bended knee.
Donna G Fowler
9/23/2006