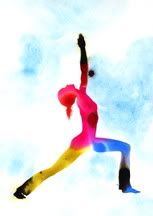 Back when I was in my twenties I took a class in finances, where the instructor said to make regular personal financial investments over time consistently even when the market is high or low and your investment will average out over time. I have used this idea when exercising hoping that it will pay off at the end of the month, doing what I can do each and every day adding up my steps and hoping that the average at the end of the week will be a respectable total. Last month is was just under 10,000 steps. My weight loss per month has averaged about 4 pounds per month.
That means it would take me 11 more months at this rate to get down to 125 pounds. That is a long time. Way longer than what spark projected. YIKES !!! What's Up with that ??? I am totally staying within the calorie range on the lower side of it without feeling hungry at the slightest.
Planning to win, but having a plan that has some flexibility to allow for some adjustment in my energy levels allows me make adjustments day to day as my needs arise without me feeling guilty. It's a win-win situation. When set a step goal 30,000 steps per month which equals 10,000 steps a day often I shoot for going over 10,000 steps a day. It's kind of a just in case scenario. Just in case I miss a day or want to take a day off, or feel under the weather. However, I do make the choice to go under my goal.
Tomorrow I start a new notebook. I went out and found a lovely dark purple one. I filled three so far with my weightloss journey !!! Three notebooks filled with notes of what workouts I have done, foods eaten, calories burned, measurements, steps taken, a wealth of priceless information that can't be replaced.
My workout yesterday was: 100 Crunches with the legs in the air to work the muffin top, and alternating crunches, three sets of 30 kettlebell swings, (I am getting better !!!) 2 sets of 20 pushups, and Petra's Cardio for Beginners. Petra was a delight to workout with. She has such a pleasant, cheerful personality that I really enjoyed that make working out a pleasure. I will have to invest in more of her workouts.
Total steps 10264.
101 moderate activity.
45 vig.
2491 Cal. burned.
My MS had me sitting a bit more yesterday with increased fatigue. My face, head, neck, chest, shoulders, arms, and back, have increased numbness that is rather worry some. Its a new intensity of numbness that I haven't experiences before. I did have to get help up out of the chair today and up off the floor after doing crunches and pushups. So I did my floor work in the living room knowing I would need help.
Overall, even with the minor challenges that I faced today the exercise has done me a world of good. My walking and balance has improved, my gait is better. It is not normal, there is still a ways to improve, but it is far superior to how it was before I started to working out at home. Back when physical therapist had given up hope on me. There are times I can get up out of the chair much easier than ever before. I notice that I can roll over easier on the floor, something I used to struggle with before. There are times when I don't have to hold on to my husband to walk. When my minds clouds up with the MS cog fog, I have noticed if I get up and march in place it helps to clear it up. My posture is improving. My mental attitude is improving, I am more positive than before.
I am comitted to the process.