First off, I want to say thank you to all of those who left messages on my last entry. It meant a lot to me.
I fell into a bit of a funk today, but am happy to say that one behavior I did NOT indulge in was overeating. Now that I think on that I'm proud of myself there. I moped about the house some, played on the computer some...then finally rousted myself out to go to the mall to get a gift certificate for my niece. There will be a party for her on Sunday. (We're also supposed to hit the tree farm before we head to my brothers..so it will be a busy day.)
In 2008 after my daughter came home we got a family portrait done...our first as a family of four. I decided I'd like to get it done again this year, but really, really dress the kids up. I happened to find a little suit (complete with a clip on tie) for my son, and a sparkly party dress for our girl...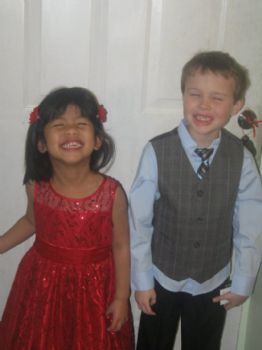 And I found a fairly dressy top for me .. that portrait will happen tomorrow night. I only wish my son didn't bite and lick his lips like he does...they are a bit raw underneath.. But still, they are so stinking cute, aren't they? :)
My son reminds me a lot of my dad... I swear he looks a lot like my dad at that age. And sometimes when he grins.... its the same grin. The same ondery twinkle.
Today was supposed to be a C25K day...and I should move on to week 4, but I have to confess... between my mood of earlier...and some sort of weird fear (of what, I don't know).... I didnt. I was even going to allow myself a "skip" day. But then my husband sensibly said that maybe I should at least ride the bike....and I'd feel better after I was done. So I did..and I guess I feel a bit better. Now I'm avoiding doing the bills and some other things I need to accomplish.
I'll get to them eventually. I guess I'm entitled to wallow a little, right?
Thanks again for the kind words and good thoughts.