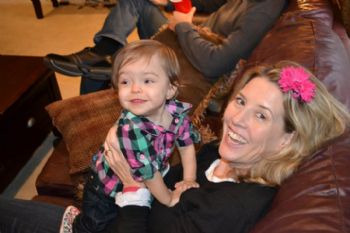 I think everyday can have some kind of miracle in it. The picture above is of me and Lexi Colmenero. She let me borrow her beautiful hair clip! Lexi was born very premature and weighed less than 2 lbs. In this picture she is over a year old. She was so tiny that her foot fit across two of her dad's fingers. Now she is crawling and moving around and growing. We all enjoyed holding her on Thanksgiving. She is a living miracle.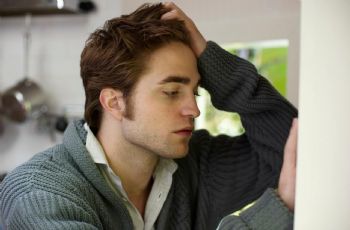 This is just a fun picture in case Coach Denise who is also Team Edward drops by!

I am sick and took advice and slept alot today. Good for me that I work from home and have the ability to control my schedule. I had intentionally built in a couple work from home days since my mom had been visiting and flew home yesterday. I thought I might need a couple of catch up, work in my pj's days and that proved to be accurate for the wrong reason. I did get in about 4 hours of work, but rested as well.
This evening I'm sitting in bed reading some old issues of Success Magazine. I love that magazine and find it truly inspirational everytime I read one. Here are a few quotes and thoughts that I took note of tonight:
1. Failure will never overtake me if my determination to succeed is strong enough. Og Mandino
2. All obstacles have one thing in common: you. The only thing standing between you and what you want is all that chatter in your head. Mel Robbins
3. Create a legacy everyday. Live fully, authentically, and spontaneously with nothing being held back.
4. What is now proved waas once only imagined. William Blake
One of the challenges for my team this week is to create your own personal mantra, and then next week will be followed up with sharing positive motivational quotes so I've been doing a little research. I have two mantras right now that I am trying to focus on...one is borrowed: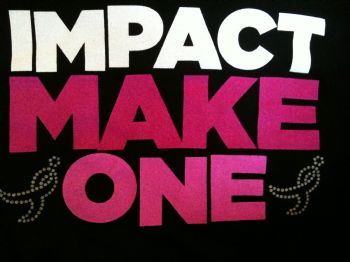 This is from the Susan G. Komen foundation and I love it. I bought a key chain with this on it, and a tshirt (which one of my daughters immediately confiscated as her own).
My other mantra is Live UP! I had a dream about that recently which I thought was interesting. I must have really been pondering this mantra thing if I started dreaming about it. In my dream my saying was Live UP! and it meant that I was focusing each day on living in a positive direction instead of a negative one. I was challenging myself to do better, and be better, and to have a positive influence in the world.
So all of this is percolating in my head as I try and determine how to cross the finish line with the last 10 lbs or so I want to lose. How do I get those thighs to look toned and not flabby? How do I get closer to the six pack abs instead of the kangaroo look? We all have to push ourselves beyond our comfort zone to reach the goals that we have for our life. If it were easy, then everyone would be able to do it and there would be no effort required.
Getting to your goals requires effort, focus, determination, and a dream. What is your dream? What do you need to focus on, and put the effort into in order to achieve it? Start tomorrow and tell me what you are going to do for one day to get closer to your goals.