Let me begin by saying thank you! When my "Fairy Tale" blog received a Popular Blog Post Award , I was overwhelmed! I cannot express my gratitude strongly enough or tell you how deeply I feel that Spark is home to me--a place where I am accepted and loved just as I am--a place where I belong!
There have been a couple questions concerning the use of the term obese in my tale. My weight ticker says that I weighed 117 when I started Spark in June, 2010. That is not obese--even at my height of only 4'9.5", although it IS overweight. You see, the tale did not actually begin at 117 pounds!
And now………..
Fairy Tales Aren't Real--The Prequel
Let's go back in time just a bit, shall we? I'm sure you all remember the chubby little girl. Remember-- she grew into a fat teenager who grew into an obese woman? Oh, good! I thought you would remember!! If you have no idea what I am talking about, click on this link:
http://www.sparkpeople.com/m
ypage_public_journal_indiv
idual.asp?blog_id=3797288
Now, what you don't know about is all the life that happened in between her being a short, chubby girl and becoming the beautiful woman she is today.
In my first tale, there was the mention of a nerdy, geeky guy who carried a briefcase instead of a backpack. Many of you have asked to know more about that part of the story!! The nerdy, geeky guy was tall--6' 1" tall to be exact! He swept the short, fat teenager off her feet while they were still in high school! The unlikely pair were married when they were only 19!
Life for the two was happy and busy! Degrees were earned. The short, fat wife was hired as a teacher while her tall husband ran the family business . A home was purchased, a baby was born, a bigger home was purchased. The three laughed and played and traveled!!
The short, overweight young woman in our story was happy! She took an extended leave from school to stay home and raise her son. She was living a real-life fairy tale!!! All the while, she ate and ate and ate and ate!
Her husband's job required that she entertain several times a year. She hired caterers who came to their home and served scrumptious appetizers, soups, main courses, and sinfully delicious desserts on silver platters! ( I told you she was living a fairy tale!) She ate and ate and ate and ate some more!
Our young heroine was getting so fat, she didn't want to take walks with her young son. It was hard for her to keep up. She would break out in a sweat when it was 65*! Her fat thighs would rub together!
This all made her very sad indeed, so she ate and ate and ate and ate some more. She thought that would make her feel better, but it didn't.
She had become obese! She weighed 160 pounds. Remember how petite she was? This is what she looked like in 1994: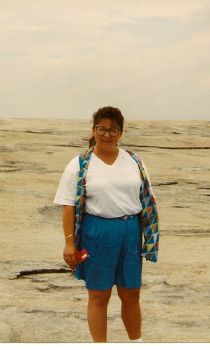 Then, as sometimes happens in fairly tales, a horrible tragedy struck! In 1995, the tall, handsome husband in our tale passed away very, very suddenly. The obese woman and her 13 year old son were left alone. She was so very, very sad that she did not eat. She ate so little over the next months that she lost almost half her body weight! Yes, it's true!
She weighed less than 90 pounds. She looked emaciated. Her family and friends were worried! She was taken to doctors, tests were run. She was literally dying of a broken heart. The doctors gave her medicines to make her feel better.
Slowly, but surely, she healed. Oh, it took years before she felt like her old self again. Feeling better brought back some very, very bad habits. She gained weight steadily until she found herself becoming bigger and bigger.
In 2007, the heroine of our story met another sweet, wonderful man who made her smile and laugh! The happier she became, the more weight she put on. It was for this man that she was searching the internet for ground beef recipes when, if you recall, she stumbled upon that strange land called Spark People!
This is what she looks like today, thanks to Spark: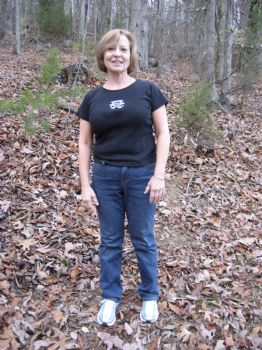 This beautiful, fit woman married the sweet, wonderful man whom she met in 2007! In fact, their 2nd anniversary is this New Year's Eve!! This hangs in her home today: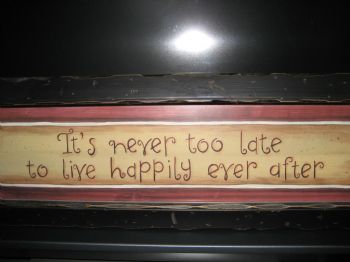 And now, you know the rest of the story!