Wow that was a great week!
I started P3 on Sunday last week and I was soooo scared I was going to have a hard time stabilizing like I did last round. I have been ecstatic to find out that I have been a pound BELOW my ldw the entire time, and 2 days I've been down to 2lbs below (mmm gave me a reason to spend some more time with my true love... mr. peanut butter! Lol).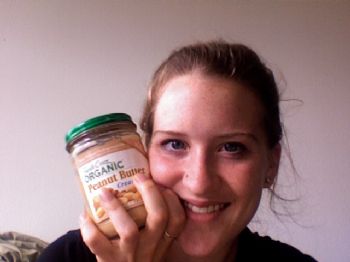 After my first day of P3, I was already taking enzymes after each meal (I posted about them in my blog about my first breakfast), but I found that sometimes dinner made me a little queasy - even eating my normal simple meal of a chicken breast with some spinach or steamed broccoli was making me a little icky feeling. I ran down to Central Market and checked out the teas - managed to find a digestive tea that has peppermint and herbs in it to aid with digestion. I really think it has helped a TON! When I eat dinner and feel a little sluggish I just steep a cup for 10-15 minutes and drink a nice cup of tea, and within 5-10 minutes I feel right as rain and the next morning I wake up to either stable or a lower weight than before!
I even went out with my baby Friday night and we had a beer and some edamame. I didn't have as much as I wanted to because I wasn't sure how my body would take it since it's still so early in P3, but I did fine with it! I was pretty excited. I found out later that edamame are actually safe for P3 for some people (same with beer, I guess). It's been so great to be able to eat all of this though - I'm amazed at how much I can eat! And I'm eating a lot of fats, too - mostly nuts, avocadoes, and cheese, but last time I could hardly eat an almond without blowing up like a balloon! Last time I did eat a TON of fruit, though. I've been (not even consciously) just keeping my fruit to 1/3 of an apple in my pancake and 1/2 grapefruit at breakfast. Last time I was eating 3 apples a day, lots of berries, and lots of fats WITH them. o.O
I may even try to go work out at my Krav Maga class later this week and see how that goes, too.
I'm so excited!! :D :D :D I went and tried on dresses last night and I was so happy when I looked in the mirror and didn't have to worry about hiding anything! And sometimes I catch myself thinking that I'm still the girl in the 12/14s, when I put my hand in my pocket and realize I'm wearing my 7s I pretty much freak out all over again! It was pretty fun to have to go buy new clothes that were size S and M... I got some cute new stuff!! :D And maybe it's TMI, but my BF told me I was sexy this week... Hahahaha. I felt so proud!
So for all of you on or getting ready to go into P3, here's the advice my Dr gave me (she's a STRICT Simeon's protocol follower, too.):
"Use your weight from 2 days prior to your last drop day as your set point and keep it between 2 lbs up or down from that. Phase 3 is low carb. No starches. 2-3 servings of fruit. Non-starchy veggies. Dairy. Meat. Nuts. You have to read ingredient lists for sugar, honey, agave, any other sugar including sugar alcohols are not even allowed. It can spike your weight. Even if nutrition says 0carbs, 0sugar, if any of that is on the ingredient list, you still can't eat it."
Ok so following that advice and reading Dr. Simeon's protocol several times through (as well as LOTS of people's blogs and experiences with P3) here's kinda what I've been eating on P3, for anyone who needs some "sample menus."
Breakfast (30-40% of daily calories):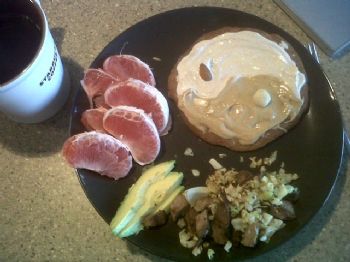 Flax pancake (recipe on my sparkrecipe page) with coconut oil instead of butter, then spread with peanut butter and/or greek yogurt on top
A couple of almonds or mac nuts
Fried egg OR some cubed steak
Hash made with a veggie (used cabbage, cauliflower, and zucchini so far. All very good!)
1/2 grapefruit (aids in digestion!)
Lunch (30% of daily calories)
Protein (steak, chicken breast, or lunchmeat from Central Market. Check ingredients!!!!!)
Mozzarella cheese stick
Salsa or mustard (depending on the meat! lol)
A veggie (spinach or lettuce as a wrap, steamed fresh veggies, whatever I feel like :)
Sometimes some nuts or a cup of Greek yogurt with some flax meal/coconut shavings
NOTE: after lunch I try to stay pretty low fat since fats take much longer to digest. I've found as long as I keep dinner completely carb free, I can let myself have avocado or cheese at dinner with no consequences the next morning.
Snack (10-20% calories and lighter in fat)
Cup of yogurt and flax or a couple of nuts (or both)
some lunchmeat and salsa
Nothing. LOL. One thing I've found is really LISTENING to your body is crucial in this phase. My 2nd day I didn't eat lunch because I just wasn't hungry - my body didn't need the calories that day and it balanced out perfectly. I can't emphasize this enough - listen to it!! :D
Dinner (20% of daily calories)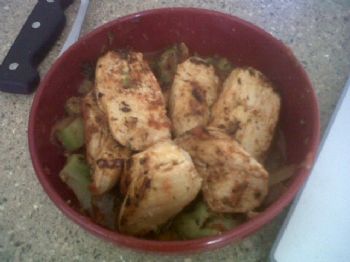 Protein (chicken seems to work REALLY well for me at dinner - I guess because it's so light in fats)
Veggie (same as lunch... sometimes I make fancy stuff like italian chicken with tomato sauce and whatnot, but I like to keep it easy most days!)
Avocado or just a few nuts if I'm still hungry after dinner
(Digestive tea within 10-20 minutes of dinner helps a ton, too)
Ok so it's pretty brief and just kindof an overview, but hopefully it can give you some ideas for your P3 if you need any. Good luck to you all and can't wait to see where we all go from here!