Tuesday, November 16, 2010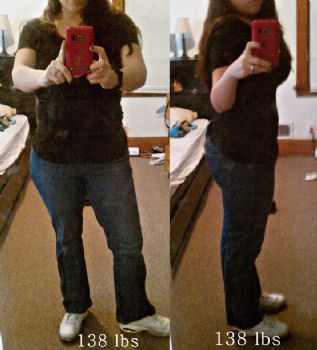 Well I made my October Goal (To weigh 140 or less by the end of October) and i was right at 140.2....so I'm taking it as a goal met! lol This month's goal is to be at 135 or less by Christmas. I'm giving myself a little over a month for this one.....Just because of Thanksgiving. I know that's going to be a challenge!!! I have a game plan in motion so I shouldn't do that bad...fingers crossed!

I am currently at 138 even. I was hoping to be a little closer to 135 by now but hey...i'm just happy that the scale is still moving, even if it is ONE lb at a time!

I want to also tell all of my wonderful SparkBuddies that I used to conversate with on the regular how sorry I am for not being around for awhile!!! I am sooooo super busy with work now that I can't get on nearly as much as i'd like!! I miss you all!!! you know who you all are!!! Keep up the great work guys!!!!!! HAPPY SPARKING EVERYONE!!!!!!!!!!!!!!!!!!!!! Let's get through the holidays GUILT FREE!!! :)) (as best we can lol )