"When I look in the mirror, do I like what I see?"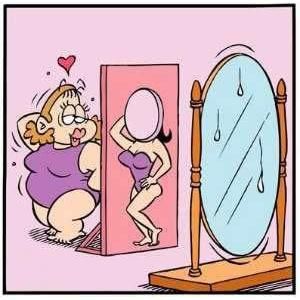 Perhaps I purposefully go out of my way to avoid seeing that full length reflection of me.
Oh mirror what a painful reminder you can be of how far I have yet to go.
Like the anorexic who pretends she is eating plenty, I am pretending to be eating less when actually I constantly grow."
Realising my symptoms are the opposite to anorexia - its a fact that I am fatorexic.
Realising that one has fatorexia can change save a life.
Not because there is a magic formula to make me slim,
But because recognising the condition can prevent the behaviour which is making fat.
Changing habits like eating right and just a little less, then taking a walk or going to a gym.
Although fatorexia is not an excuse to be fat, it is definitely a reason one will denied.
In my case, when I started looking at myself properly in full-length mirrors and stopped lying about the size of my clothes.
Slowly with the help of mirror,scale and Sparkpeople.com , I will end my fatorexia woes.