Picture of my daughter helping dad with cross training...
Wednesday, November 10, 2010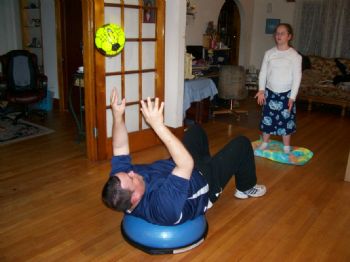 This is my daughter Emily helping daddy cross train by playing crunch catch. I basically would toss a ball to her then when I came back up she would have it in the air so I could catch it then toss it to her on the way down again. I figure it is a good way to get the kids involved instead of dad always being out doing something. I dont want them to resent my running all the time and right now i dont have much of a choice with the issues I have been having.
Foam roller has helped tremendously but it is like torture at first. It does get better right?
It does wonders for loosening up the IT band, back, quads, hammies and calves. I wanted to cry when I rolled out the affected IT band, it was brutal I admit but worth the effort. feeling better.
I also WALKED 1.5 miles on the treadmill (was going for 5K) at a nice easy going pace but at the first sign of discomfort i stopped it. Just trying to be smart about it. feel pretty good, not at all pushing it. This will probably be going on for quite sometime and I am mentally prepared for alternate routes. I am down but not out.
we will overcome!