If Fellini and Lewis Carroll were to have an illegitimate love child, last Sunday would have been it. I spent the day either A) watching a dude in a bathrobe (obviously abiding) chase a gnome through a muddy creek bed while Batwoman fell over and a Mexican wrestler waded through a knee deep puddle to grab a can of beer dangling from a makeshift fishing pole only to find it empty (much to the crowd's delight), or B) chasing or being chased by Super Woman, Scooby Doo, the St. Pauli Girl, Harry Potter and others and running through fire, and getting heckled by Father Andy. All the while sporting a chicken bucket on my head and bemoaning the lack of a cardboard Gibson Firebird to sling over my back. In short, it was the Cap City Cross Uncle Steve's Halloween Race. WOOHOO!!!!
www.youtube.com/watch?v=
sCOK42gTNLo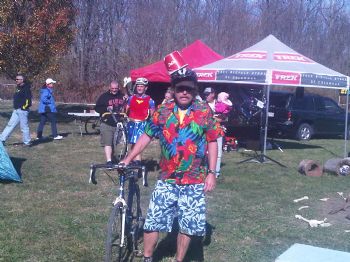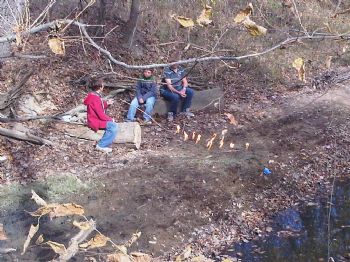 Anyway, I did two races. Since I was able to convince them at registration that I was in costume and not just off my meds, I got half off entry. My first race was the "C" race--Category 4 Men, Category 3/4 Women, and juniors. [Last year, my daughter won the juniors while racing with a Salvador Dali mustache and llama ears (she was the Dali Llama). This year, she stayed home to go to church and work on her Halloween costume.] The Cat 4 men go first, followed 1 minute later by the women and juniors. At staging, those not in costumes were moved to the back.
C RACE
The race was started by the firing of a potato cannon. I immediately started working my way to the back, yet something felt different. A third of the way through the lap, after going through switchbacks, the beer hand up area, a narrow, if longish sandpit, I came to the barriers in next to last. Coming out of the barriers I was last. The thing that got me, that filled my stomach full of anger and made me want to take my revenge, was not only did I get passed by an Old Fart, but he had not the courtesy to be in costume. I followed him through some single track to the base of a grassy hill. Here, at the urging of a non racing team mate, I attacked on the hill. After you're done laughing at the thought of a fat (40lbs overweight) old man wearing a chicken bucket attacking a skinny (though much older) guy on an uphill, think of this, I blew by the guy, I dropped him like an ugly prom date, I detonated him (translated, at the top of the hill, I had about a 3 bike length gap).
The course popped out of the single track, ran alongside the road, through Uncle Steve's front yard, down his side yard, along a pond, into his back yard, and to a single barrier. I jumped the barrier. DISCLOSURE: this single barrier was not as high as those at the double barrier section when Methuselah slipped by me and my rear wheel didn't quite clear it, but I stayed upright and didn't stop riding. From that point on, I didn't not dismount for that barrier.
We then went up a little bump into some more single track and ended up at a 10 ft drop off into a muddy creek bed. Some rode the drop, most of us, me included, ran it and the 150 or so yards of creek.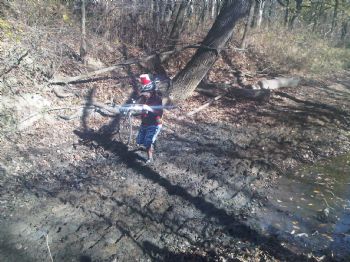 A neat little feature here was a gas feed ring of fire to run through (until the officials got wind of it and shut it down).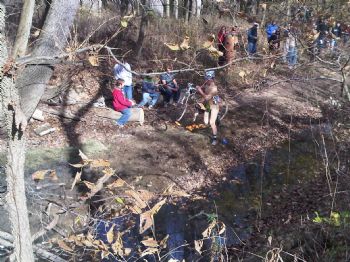 The creek bed ended at a steep run up, then more single track and short, open sprint to the finish.
On my second lap, a kid passed me. Some of the older juniors had already rocketed by, this kid however, just kept grinding until getting by. Pretty cool. The last lap, I got by him for good when he couldn't unclip for the drop into the creek and had to stop to get unclipped. Coming out of the creek bed for the last time I passed another kid struggling to get his bike up the run up. This might seem mean, but given the number of times I've been lapped by 12 and 13 year olds racing as Cat 4's this year, I smiled to myself. (I also helped the kid get up out of the creek and told him to "hammer on, little dude" and got a big smile out of him.)
I ended up beating Greybeard, drinking some water, getting in a couple laps and lining up for the B race: Cat 3 men and Cat 3/4 masters.
B RACE
Iíve wanted to do two races a day for some time. I almost did it a few weeks back at the Coffman Park Race in Dublin, Oh. I hadnít planned on it, but the C Race was so much fun that a second race seemed quite appealing. The mind set, however, wasnít there. To do two races, I have to be thinking that from the get go. This would have been a spur of the moment decision and I didnít want to decide something like that based solely on the rush of endorphins and the delusions that come from major oxygen debt. Sunday, I planned on two races before getting out of bed.
The C Race is 30 minutes. The B Race is 45 minutes and has a lot more speed and talent. At the start I made my traditional dash to the back of the field, but I didnít go back as quickly as I did in the C Race. I came out a little harder, actually passed a couple guys on the starting straight, got by some guys in some corners, and hung on to a couple wheels for a bit. In short order the inevitable happened and I was spit out the back. That it took longer than usual was a function of starting spot, larger field, a general feeling of frogginess.
I got in 4 or 5 laps and accepted every beer hand up offered. When I came up to the single barrier for the first time, I hesitated for just a touch as the barrier had been raised a bit. I still tried to jump it, but the increased height and my hesitation resulted in me blowing it up.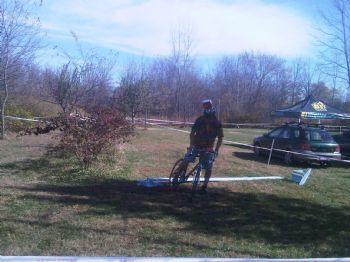 I stayed up, but pieces of barriers went flying everywhere. The next time around, I decided to dismount instead of destroying the barrier again. However, Andy, the head of the Cap City series had just finished putting the barrier back together and was screaming at me to jump it. I did and found the height had been lowered and was able to continue jumping it.
Most of the bikes you see at CX races are Redlines, Ridleys, Treks, Fujis, and the occasional Surly. I ride a Raleigh Rx 1.0. Rarely do I see other ones. In the B Race, Super Woman was on one. He didn't finish the race though, as he rolled his front tire off the rim.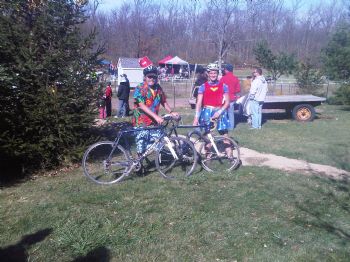 I think I came in 7th in the Cat 3/4 Masters 45+ (out of 7) in the B Race. Things were good.
Let me explain my non riding team mate. Dan was having a rough day. He picked me up at my apartment and somewhere between Springboro and Exit 2 of I-675 one of his wheels came off (not car wheel, front bike wheel that was in a holding fork on the bike rack on the roof of his car) and bounced down the road. We think. This was just one of the interesting things that had happened to him that day. The mojo wasnít there and he bagged it. While understandable, it was sad as until the wheel flew off into oblivion, he was really getting psyched.
Next up: Gun Club in the OVCX Series on 11/7. While not a potato cannon, every race is started with a shot gun. Can't wait....