Full post later, I'm off to have dinner with friends.
I finished even with my quads feeling like clenched angry baby fists from mile 8 to the finish (yes, seriously. NO idea why!) I finished ahead of my goal, even AND ran uneven splits(!) On legs that felt like death.
They feel worse now, OMG. And other things are starting to sing - knees, etc.
Getting into a car and drive the 90 minutes home = fun.
My thighs are so tight, it's crazy. "Iced" with a really cold water bottle in the car and then took a hot shower once I got home + tiger balm. Gonna do some Arnica, too.
Whew!
488 overall out of 577 finishers. 57/78 division First Half: 2:30:21 Second Half: 2:27:26
Gun Time: 5:00:31 Chip Time: 4:57:47 Average Pace: 11:22
I feel so proud.
I haz a medal! And a shirt! and a SPACE BLANKET like in the movies. :D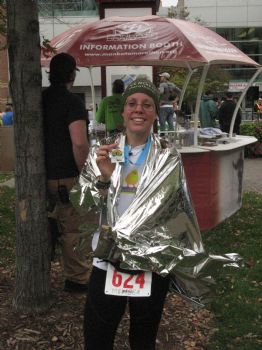 Also, thumbs up to carbs!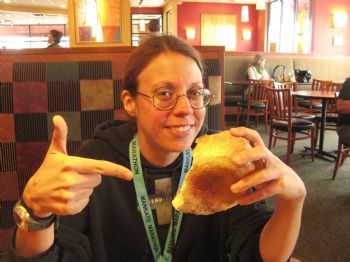 Yes, I ate a whole dang breadbowl at Panera. We also shared some coconut milk ice cream, gluten free cookies and I had a frappachino. I burned 2600(!) calories and my body wanted sugar in the worst possible way. I regret nothing! ;)