Monday, October 11, 2010
Haven't blogged in a while due to time issues. But I have been meaning to.
The weather is disrupting my workouts and soon I'll have to plan time to go back to the rec center to run on the treadmill. I just really grew to love running outdoors and I hate for it to end for a season, but end it must.
I went hiking on Saturday (with a pretty wonderful guy, I might add) and here is a pic of the falls we hiked to: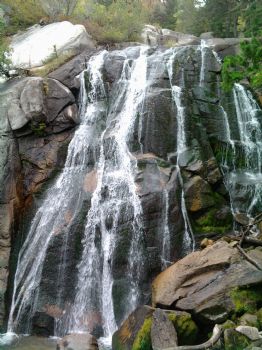 Then we hiked to the top of the falls. It was long and fun! There was this stair stepper that seemed to go on forever! But it felt so good and after stretching a few times my body felt great when I woke up Sunday morning.
I wrote before about the Disneyland Half Marathon and that I'm going to run it next Labor Day weekend. BUT even better news... My family decided to make it a reunion and we're all participating - even though none of us live in California anymore AND two families live much farther away than the rest of us!
Half Marathon runners: Myself, older sister and her husband, two younger sisters and their husbands (including my obese sister!!!!! So happy she wants to do this!!!!).
5k runners: Another sister and her husband, one nephew.
5k joggers/walkers: My mom and the rest of the nieces and nephews.
Photographer: My stepdad :)
I can't wait! It's going to be so much fun!!! After the race on that Saturday we'll probably all just hang out and rest. Then Sunday we'll go to Disneyland. Only 11 more months! WooHoo!