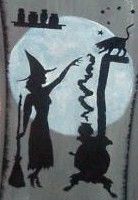 We have had our first snow and now the woodstove is keeping the GarageWannaBeHouse toasty and warm. It's time to break out the hearty (yet healthy) soups and stews recipes.
Wytch's Wynter Chili
Ingredients
2 cans - Kidney Beans (not drained)
2 cans - Diced Tomatoes (not drained)
2 tsps - Minced Garlic (I used a whole head of roasted garlic, but we love garlic!)
1 - Large Onion chopped
1 cup - Mushrooms slices
1 cup - mixed Red, Orange, Yellow Peppers (bell peppers) diced
1 pound - Hamburger browned and drained well
2 Tbsp - Chili powder (or more if you prefer)
2 tsp - Chipolte seasoning (or more if you prefer)
Sometimes on a particularly cold day I will add a small can of green chilis (not in the nutrition information).
Nutritional Info
Fat: 6.5g
Carbohydrates: 26.8g
Calories:215.4
Protein: 12.6g
Makes 8 - 1 cup servings
Get out your favorite cauldron and ...
Brown the hambuger and drain very well.
Saute the onion, garlic, peppers, and mushrooms in a bit of water until onions are translucent.
Add kidney beans, tomatoes, hamburger to the pot and mix well.
Add chipolte and chili powder, and stir.
Bring to a bubble, bubble, toil and trouble.
Reduce fire under the cauldron and simmer for an hour or so.
The longer you simmer it, the more the flavors meld, the better the chili. Even better the next day reheated. They say the best bowl of chili is the last one!