A very proud moment for me
Saturday, October 02, 2010
NIKE+ IMAGE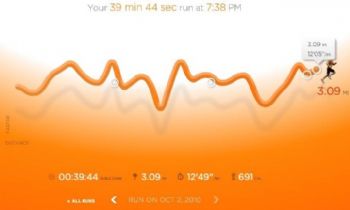 Average HR 141, MAX HR 168 per Polar HRM
Miles 3.1 AV PACE 12'49" TIME 39'44"
That is not fast for most but it is incredible for me. I NEVER thought I would see the day I would SUB 40 min 5K and on a course with hills no less. This is where my work is made real to me. Usually I just slog along and go for distance, It just seems like somewhere I found my form and my legs just moved and I kept a solid pace up with a kick at the end.
Usually my legs just wont go, it is almost like they are maxed out at a slogging pace but this time I got it into gear and stayed.
for me, this is huge. Before SP, the only time i would move that fast is when they put fresh crab legs on the buffet.