We missed family fitness for August because of my surgery. We made up for it in September though.
We've just returned from spending 10 days driving around New Zealand. As there are 6 of us, motel accomdation gets tricky, so we hired a motor home to drive around / live in. Just using a motor home forces you to be more active. It's not exactly easy to park one, so we tended to park and walk (my favourite way to do things any way). I think we probably ate less as we tended to drive and then stop for meals, so there was less snacking. The kids commented on this too. My clothes were starting to feel looser, but I won't weigh in until Thursday.
So, we've had plenty of family fun. On the fitness side - last Wednesday we toured the Cadbury factory in Dunedin (the long couple of hours version). At the start of the tour, the guide said that we would be climbing 9 flights of stairs, so for a moment I considered making it the family fun fitness activity, but really, touring a chocolate factory (and collecting samples) really can't count.
Family fun fitness activity number 1. (Postponed from August). Dunedin has the worlds steepest street. We climbed it. Then it started to rain, so we went down quickly. One guy rode his bike up (and then coasted down).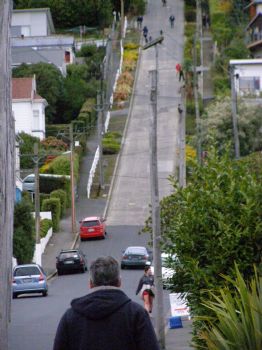 Looking up at the street.
The cyclist.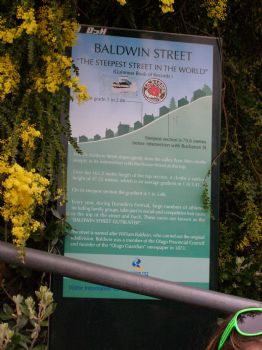 Info on the street.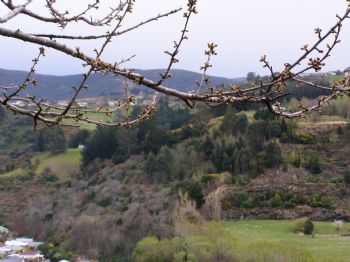 View from the top.
Most days involved walking around the towns (new town every day for the first few days).
Family fun fitness activity number 2. We went skiing. My husband and I have skied before. Day one, the kids were in a form of skiing daycare were they spent the day skiing with instructors and had a lunch break. Day 2, we wre skiing together. As it's been 15 years since we've skied, it was a relief to be able to still ski. The kids took to it really well. The only way my youngest could get up the slope was to ski between either me or my husband and hang on to our legs. It absolutely killed my achilles tendon to do this and I could barely walk after the day, but with consistent stretching through the night, I was fine.
Me with two of my girls.
Good to be home.