Tuesday, September 28, 2010
Well yesterday was another one of the days when I was so busy I missed myself coming and going! Cannot seem to fit enough things into the time available. I spend time waiting and then all hell breaks loose when I am already loaded down with things to do.
I was really happy my cousin sent a picture of my at 16. The dress was too big and way to long for a 16 year old.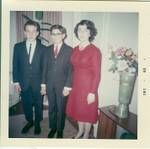 So here it is Tuesday and I am waiting for my walking partner to call and let me know if she is ready to walk. I have not been on the site much for several weeks. All I do is post my food and exercise. I am happy to say I am off plateau ( how I practice being a goal ) and am moving down again. I want to be at my goal by November 7th