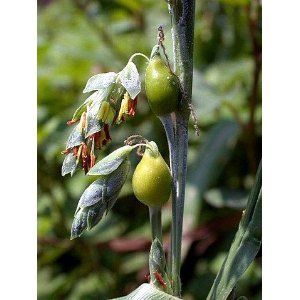 The common name for Job's tears comes from their teardrop shape.. Job's tears are the grains of a tropical Asian grass. These grains have a multiple uses, they are used as a source of food or to make ornaments.. Many Asian markets sell Job's tears in their grain sections for cooking. Beaders and craftspeople also use Job's tears, and they may be found at beading and craft stores for this purpose. They are sold in a polished white form and in an unhulled brown form. Unhulled Job's tears are more readily available in Japan, where they are called juzudama.
Job's tears are rich in protein, iron, calcium, fatty acids, and dietary fiber. The most common way to eat Job's Tears is as a side-dish or in soups but it can also be used to make breads, pastas, and porridge. East Asian countries also use it for making drinks similar to coffee and tea.
Job's Tears are often mislabeled as Chinese Pearled Barley in Asian markets. It does look similar to barley but it is not even in the same family of grains. If you're not sure what you are buying then check the price. They are about five times the price of Barley. Second, check the size of the grains. If they are much larger and rounder than Barley - they are not Barley.
Heath Benefits:
Great for hair, skin and nails
Digestive problems
Joint Pain
Detoxifying agent
Lung problems
Edema
"Job's tears contains chemicals that might interfere with cancer cell growth. Other chemicals might also have antioxidant effects and also decrease growth of bacteria and parasites. But most research on Job's tears is in animals and test tubes. There isn't enough information to know if Job's tears has this activity in people. Fiber contained in Job's tears might also decrease how much fat and cholesterol the body absorbs."
Sources:
www.webmd.com/vitamins-s
upplements/ingredientmono-
1164-JOB'S%20TEARS.aspx?ac
tiveIngredientId=1164&acti
veIngredientName=JOB'S%20TEARS
www.namuorganics.com/new
s.html
How to prepare: Combine 2 parts grain to 1 part liquid. Bring to a boil then simmer, uncovered, 50-60 minutes or until water has evaporated. Fluff with fork and let stand 5 minutes.
***Any recipe you have to cook barley you can use to cook Job's Tears****
Brown Rice Pulao: Also known as Hato Mugi
1 cup brown basmati rice
1 cup Job's tears, or 1 more cup brown rice
3 tablespoons ghee or avocado oil, or a mixture
1 tablespoon cumin seeds
10 whole cloves
5 cardamom pods
2 bay leaves
1 cinnamon stick
4 cups water
2 cups frozen vegetable medley (corn, carrots, peas), not thawed
1/4-1/2 cup raisins
Pinch of salt (optional)
Additional ghee (optional)
1. Wash rice and Job's tears in a strainer; set aside.
2. Heat ghee or oil in a large pot or Dutch oven over medium heat. Add spices. Stir a few minutes, being careful not to burn spices. Add rice and Job's tears, and stir about 8 minutes.
3. Carefully add water to rice mix (it will pop and splash). Bring to a boil, reduce heat to medium, cover, and cook for 45-55 minutes.
4. Add frozen vegetables to rice and stir on medium-low heat. Stir in raisins and add a bit of salt and ghee, if desired. Remove large spices before serving.
Job's Tears Chicken Stew - Chinese Herbal Recipes
herbal.recipes.webs-sg.c
om/recipes_12.html
To find Job's Tears in a health food store, ask for "Hatomugi or look for it online.