Now I have heard everything...
To make a long story short, less than a month and a half ago my old laptop met its demise. The mother board stopped functioning. I was told it would be better to just buy a new computer rather than spend almost as much to just replace the mother board on an old computer. I knew I could find a really good sale with all of the back to school specials.
Fast forward to about 10 days ago and my brand new computer crashed. How does a new computer crash and burn? I called tech Support at HP and they tried to do a recovery remotely. Did not work. They had to send me out Recovery Discs that I had to pay for - did I mention it was brand new computer? I was livid.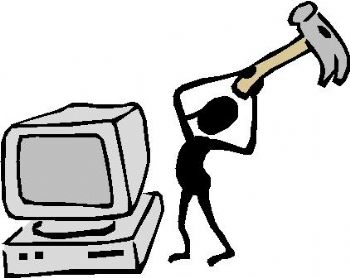 Ok, the discs finally got here and I spent no lie, over 3 hours on the phone with Tech Support rebuilding my computer with the recovery discs. Fun it was not!
Everything was wiped out. Things like blogs I was working on, all of my "favorites", recipes I had collected, etc.

Windows had to be reloaded along with everything else.
It was avery time consuming process. We had lots of time to chat in between uploads and other configurations we had to do. We talked computer for most of the time. I kept asking how a brand new computer could crash and burn? He said he has seen computers crash the 1st time they are turned on. They can last for 10 minutes or 10 years, it is all up to the computer. It was not exactly what I wanted to hear.
Then he started telling me that some people are magnetic and cause their machines to go crazy when they are near them. It is something in their chemical makeup in their blood. Their bodies react with the electronic field around their computer.
I then proceeded to tell him about the problems I was having at work with my work computer. I said I thought I was either jinxed or my computer was possessed. I was experiencing things like my constantly being booted off, my printer not communicating with the server, my efaxes not coming thru, etc. He asked if anything wacky was happening with other electronical devices in my house like the TV turning on or off by itself or changes channels by itself when I was nearby, the radio acting strange, etc. I said no, so he said he didn't think it was a magnetic issue.
When I was finally able to get off the phone, the phone rings and I had a frustrated Loan Officer on the other end of the phone. He wanted to know where I was and why I was not answering my cell phone either. I filled him in on the 3+ ordeal with Tech Support. The next words out of his mouth was, I kid you not, "Did you ever consider that all of your computer issues between your computer at work and at home is because you are magnetic?"