What a day I have had!
First off I went to bed on time last night and fell asleep very quickly only to wake up at 4am in the morning wide awake, Took a bathroom break and try to go back to sleep, nope.
Got up and went into the living and crochet for a couple of hours, alright more like 4, back to be at 7 am and woke up at 11am so I did get in total 7 hours of sleep.
This is what I made last night, my own pattern: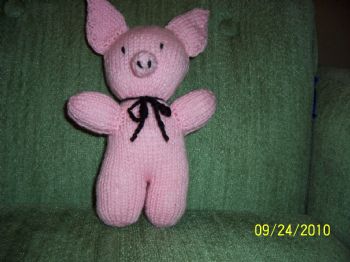 Then today on Sparks, one of my friends ask me if I made ponchos and I do, so here is one that I made up for a customer who wouldn't pay the price so I kept it.
and this is the picture that I got for 1.50$ at a thrift store when we went shopping with my dad , aunt and brother on Monday.
The picture is now up on the wall next to my other ones that I have in the hallway.
It has been raining all day today as I went out for my doctor's visit. She took my BP and it was extremely low75/41 and I had just finished walking for 5 minutes to get to her office. I was hot and sweaty when I got there and feeling so dizzy.
She listened to my lunges and there is still something there and she checked my sinuses and they are blocked, my glans are swollen still and I have dry mouth which is causing this awful taste that I have in my mouth. This is all due from the antibiotics that I was taking when I had pneumonia, so I am now on Aerius. 1 pill a day for a week and then back to see her for more blood testing and a breathing test.
She did give me a sample of a sleep aide that is non addictive and should help me to sleep for longer than 6 hours. I might even get in 10 hours of sleep tonight. Looking forward to it.
As for my BP she is not worried about it. It will get better once my health improves and the dizziness will go away too. I am too eat 5 small meals a day evenly spaced out and I need to drink at least 10 glasses of plain water a day and still have my two cups of coffee too.
That I can do because I am not working so it is easy for me to spilt up my calories and water.
So my plan is to have a glass of water first thing when I wake up with my allergy pill and my first cup of coffee.
Then I will have 5 x 320 calorie meals with a glass of water with each meal and a cup of coffee for lunch.
Now I need to plan the meals around those calories, I will still use the food tracker everyday like I always do.
I am so glad that I went and saw her today. I now how a better plan in getting my health back and she said I can start to exercise as long as I don't get dizzy, I will have to stop and I will.
It is a big relief, I came home and ate a nice healthy lunch and had two glasses of water.
I have had 10 glasses of water today and two cups of coffee. I think that I am swimming in water.
That is it for now, I am going to bed now it is just after 10pm and I am so tired. I don't think I need those sleep aids tonight.
Enjoy the rest of the evening and have a good night.