I received a great email today; I became a SparkPeople Motivator for my positive attitude!
I just wanted to thank everyone who nominated me! I was so excited when I got the email; it really brightened my mood! Whoo hoo!
Coincidentally, September is my 6 month SparkVersary!

I gave myself a trophy for it at the beginning of the month and wanted to blog about the last six months. Well, now's as good a time as any!
This is my before picture: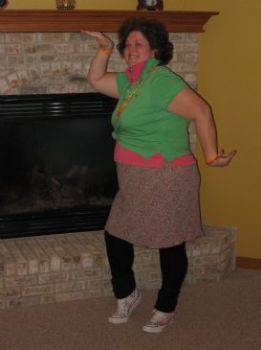 It was taken on January 30, 2010, at the 80s party that we had. About the only thing I can say about it is my 80s costume was awesome. I was quite surprised by how I looked and even more surprised when I stepped on the scale.
Enter my Wii. I started working out on it for about a month on my own without any kind of meal plan (I lost 10 pounds though), and I didn't really know what I was aiming for. I found and joined SparkPeople on March 1, 2010. Finally, I knew what I needed to do.
Here's me on July 3, showing a loss of almost 50 pounds: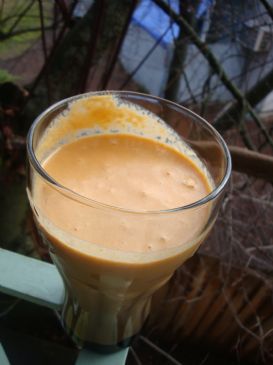 I can DEFINITELY see a difference! I blogged about my journey when I actually hit 50 pounds lost, and you can read it here if you want:
www.sparkpeople.com/mypa
ge_public_journal_individu
al.asp?blog_id=3475490
So what about now?
I never took measurements when I first started (although I had every intention to do so), but I do have some measurements from about 3 months ago and will repeat them this weekend or next. I'll report on that later. But I've gone from a size 20/22 in pants to a solid 16. Shirts, 1X or 2X to an XL. I can actually shop in the regular clothing departments, rather than being relegated to plus size clothing that doesn't really fit my style.
I have lost 54 pounds between February 1 and September 19 (Sunday nights are the official weigh-in day for me). That's only 4 pounds for the last two months, but it's not a plateau; it's "Keri indulged a little too much" mixed with circuit training. I've got some killer biceps now, and I can feel awesome muscles in the back of my thighs. I swapped out some fat for muscles, but my weight stayed the same. That's okay. I dropped inches for sure.
But I'm back on track! I'm incorporating strength training with cardio, so I should be dropping a few more pounds while still gaining definition. My calories this week and last (minus the weekend) were great, I got in exercise... things are falling into place once more.
So as a reminder to everyone who is feeling frustrated, overwhelmed, disappointed, or ready to give up ... don't. You CAN do this. It's not always going to be perfect. You won't always be in your calorie range or feeling up to exercising. But don't give up. Get back on track. This is a lifestyle change, and it doesn't stop when you reach your goal weight. Maintaining, I hear, can be harder than losing.
One day, one step, one bite at a time.