Tuesday, September 14, 2010
On Sunday, Husband and I went hiking. I was inspired by my fellow Sparkers to not take any day for granted and seize all opportunity to move. So off we went to complete our first 2 mile hike in the mountains. Elevation went up 500 ft during the 2 mile hike so not horrible but still very challenging for a former couch potato like myself. The scenery was splendid, the humidity torrid but the feeling of accomplishment finishing our goal was fantastic. After the hike we enjoyed a light picnic lunch. Here is the only pic I took: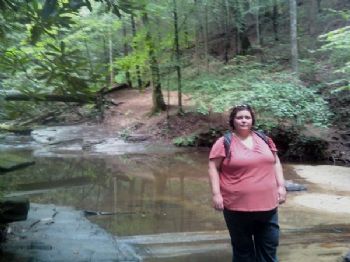 In this pic I am 25 pds down from my highest weight of 315 on 6-10-10.
Well this was my first attempt at a blog