Sweatapalooza
Tuesday, September 14, 2010
I had a test this morning in my 8am class so I was done with class and on my way to the rec center to workout by 8:30. In my last blog I talked about my new favorite cardio machine, the Cybex Arc Trainer. I love it and hate it at the same time. It totally kicks my butt. Today was no exception. I was drenched in sweat after just 20 minutes on the darn thing. I wanted to stop after 5 minutes. It's that good. It really pushes me to my limits and I love the way I feel when I'm done.
To keep me on track with my workouts I've decided to post daily post-workout photos. This is day 2 now. I take them with my iPhone so you can't see all of my sweaty glory, but it gets the point across. So here's today's picture...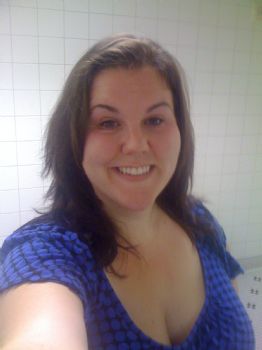 I get out of class at 12:30 on Tuesdays and usually go home for lunch, but today I forgot that I have plans and won't get to. This is the first time since starting my JillianMichaels.com diet over a week ago that I have had to eat off of my weekly meal plan. No worries. I'm going to Subway. I'm thinking roast beef (which I was supposed to eat a roast beef wrap anyway), lots of veggies and guacamole and apples on the side. Yum!
Off to class...