Monday, September 06, 2010
My newest find is Pamela's Gluten Free Bread Mix. I purchased several of her products from drugstore.com. I was going to get it from amazon.com but drugstore has free shipping if you spend $25 and that was fairly easy. I also got her cake mix, brownie mix, frosting and her baking and pancake mix. All GLUTEN FREE~
I am so excited. Yesterday I made pizza with Pamela's Gluten free bread mix. This is her first product I've tried. I couldn't be more pleased, I thought it was great. I only bought the small bag so I had to decide do I want to throw it in the bread maker or make pizza with it. She has recipes on her site for using her products. The baking and pancake mix you can use for your regular recipes as a sub for regular flour.
www.pamelasproducts.com/
recipe_frames.html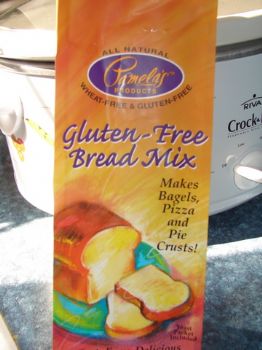 So I decided on the pizza :) It was really easy. Just add water and oil. I used olive oil, and mix with the gluten free bread mix and the included yeast. Then you just roll it out with olive oil fingers and shape into your pizza on parchment paper. It was really easy but I think it would be a lot easier to just place parchemnt over the top to smooth out instead of the oiled fingers. It can get a little tricky with the fingers and sticky if not enough oil. OK, so I made 4 smaller pizza's instead of 2 large ones. I half backed 2 of them and threw those in the freezer for a later date. One I made pizza with and the other I'm using for like a snack bread/dough. I cut the pizza dough/bread in 4's and throw it in the toaster and then added a bit of garlic roasted humus on top, mmm.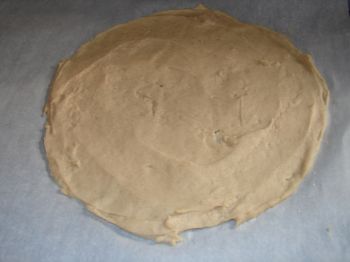 I'm no dough expert but what I found out real fast is that you need to make the middle thinner and the outside layer thicker. The edges where burning a lot quicker and leaving the middle softer, I took note for next time.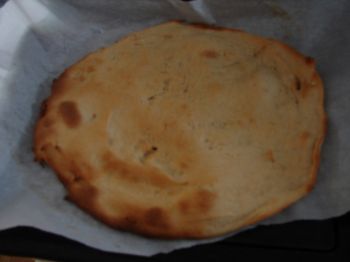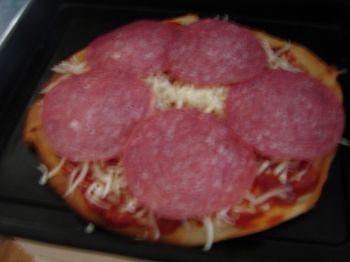 I couldn't find any Canadian bacon so I used hard salami instead of pepperoni. Each slice is 28 cals. Of course you can put on it whatever you like. I also added onion, bell pepper, jalapeno and olives and 1/2 cup of mozzarella cheese. I wanted mushrooms but forgot to get um when I went shopping.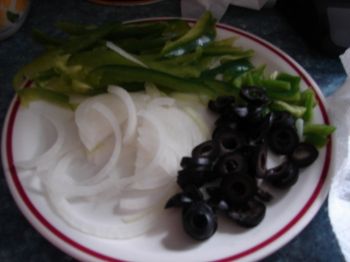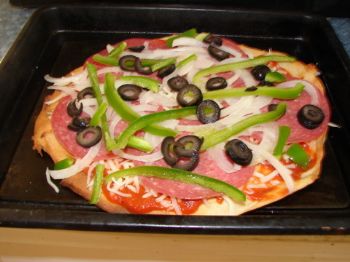 I added everything and baked. Even though the edges were getting a bit to crisp, it could have went just a bit longer. I think my next batch will be perfect now that I know what to do and I could not be more happier with this bread mix it was really good, easy and tasted like wheat to me.