Wednesday, September 01, 2010
I had a difficult time with SP the last couple of days, but it seems the problems were fixed by clearing my browser cache and deleting cookies...hopefully, things will stay fixed. I say hopefully, because after I cleared all that, I was able to change my SparkPage, but then couldn't sign back in. Now here it is a few hours later and I'm back again.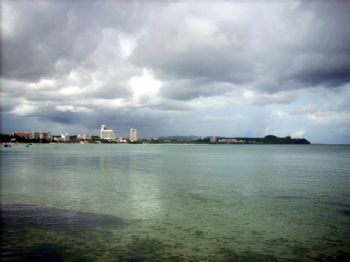 I walked four + miles on Tuesday, back and forth across Tumon Bay here in Guam. As you can see from the photo, it was a gray morning, but I didn't let that deter me. Actually, the rain toward the end of my walk was more than welcome, since I was quite overheated.
I did my usual two-mile walk today, but I think I'm going to challenge myself again tomorrow with the same four + mile route. We'll see...
I have a lot of catching up to do on the Fab 40's team, so bear with me if you stuck with the challenge to the end and are waiting to hear the results. We'll get things sorted out soon, but for now I'm heading to bed and saying goodnight to this first day of August.