One of the things that I love about my yoga class is the balance it gives me. No, not just physical balance capabilities, but life balance. I walk out having gotten this amazing, tough, sweaty workout - but I feel energized. I feel good. I feel open and happy.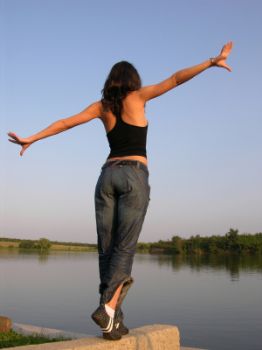 Maybe it is just the yoga classes I am in at the moment, but they talk a lot about balance in class. Again, not just balance physically (although we do that too), but life balance too. Every move we do has a counter move. We don't just work one side of our body when we do a lunge, we then immediately switch to the other side. We don't just balance on one foot in tree pose - we switch to the next side, and they always encourage us to do the same level of difficulty on the second side that we did on the first. I can't get either foot up onto my thigh while standing (yet), so I always have my foot on my calf.
I think I'm finally getting how important balancing aspects of my life is. Every aspect of my life actually. Especially every aspect of my health life. It isn't that I won't have off days, even while striving for balance, but I am shocked how much better I feel when I am balanced on my food intake - so I am just satiated, rather than stuffed (really, stuffed just makes me sound like a Thanksgiving turkey doesn't it?). I am shocked how much better I feel working out almost everyday. I sleep better, I am more energized, I am ... ok, frankly, if for nothing but the sleeping better it's awesome. And this weekend I really think I did make progress by not giving myself too much hell over not working out Friday (that nap was totally worth it) and only doing three workouts on the weekend. Not to mention, not getting down over the calorie intake at dinner on Saturday and the (crappy--I'm still pissed about that) chocolate bar on Sunday.
The psychological balance is by far the hardest part of this for me. I feel the physical benefits of eating better and exercising, almost, right away. But it takes a few days for the mental balance to effect me. I'm a bit of a control freak, so that isn't that surprising. I want this whole lifestyle change to be long-term and permanent, so I know I need to give up a little bit of control and not think that the lower and lower my calories the better off I am. That just isn't true all the time. Starving myself will not only annoy me, it will probably do no good. I haven't been starving myself, but I think I've been on the knife-edge of temptation on occasion. I left myself get hungry...and then I try to wait it out for a little bit. I think I've let myself wait it out a little longer than was necessary or helpful. And that two hour+ workout on Thursday was kind of dumb. I got in 40 minutes on Wednesday before my pasta-fest, so why did I HAVE to have an extra 40 on Thursday. No real reason, just nuttiness.
I'm not going to give up doing the occasional double-workout on the weekends. Frankly, I like doing that because it keeps me busy. I'm still planning to do two workouts Saturday and Sundays until 9/30/10 (when my first official goal is complete), because I like it and I think it is good for me when I have the energy to do it. I'm going to try and add in a third day of yoga every week (need to figure out the best day for that though). And I'm going to keep my calories under 1500 daily (I adjusted what SP says I should be doing, because I'm quite satisfied at 1500 or less).
Now if I can just be a little less nut-casey it would be great.