Tuesday, August 24, 2010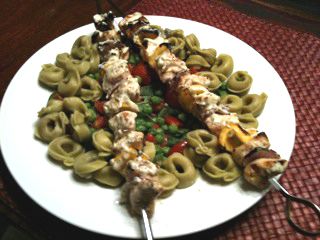 Last night I made an awesome dinner of chicken kebabs with creamy basil pesto sauce (compliments of Cooking Light magazine). I rounded out the meal with spinach tortellini and spinach salad. Kristi and I ate in silence because it was pure taste bud delight!
One thing I'm sad I forgot was to put some sweet pepper relish on the spinach salad. Oh well. Next time. For there will be MANY next times with this recipe!
If you want the recipe, check out my food blog at:
krobar-whatsfordinnerton
ight.blogspot.com/2010/08/
creamy-pesto-chicken-kebab
s-tortellini.html