This is going to be a long entry, so let me start by apologizing for that! I'm really excited about finishing this race, so I want to remember all the details.
First, let me explain what the Ragnar Relay is. It's a 200-ish mile relay race, done by teams of 12. In my case, the course went from Winona, MN to Minneapolis, MN (cutting through Wisconsin in the process). The teams each have 12 people. The race is divided into 36 "legs"--from 3.1 miles up to 8.8 miles each. Each runner on the team is responsible for running 3 of the legs--in my case, I was runner #9: I had to run 3.2 miles, then 5.4 miles, then 4.2 miles. I had asked for the easier legs because it was my first time, and I'm not exactly a marathon runner! Anyway, runners 1-6 are in Van #1, and runners 7-12 are in Van #2. Runner #1 starts the race at the starting line, runs the distance to the next station, and passes off a slap bracelet to Runner #2 (who got there by van). Then Runner #2 runs to the next station, and passes the bracelet to runner #3... and so on. Meanwhile, the people in Van #1 drive about halfway through the runner's leg and stop to give them water and cheer them on. Then the van drives to the exchange station to wait for the runner. The runner passes on the bracelet, then joins the team in the van while the new runner does their leg.
When all of the runners in Van #1 have completed their legs, then it's Van #2's turn to start where Van #1 left off. Van #1 then has about 5 hours to kill until it's their turn again--usually they will go find a place to sleep or eat. Once Van #2 is complete, then it goes back to Van #1. Each van takes 3 turns of running. Does this make sense so far? So someone from our 12-person team is constantly running, even though the distances vary. The team members in the van cheer you on and bring you water while you're running. So that's the explanation of what the Ragnar is. You can get more info at www.ragnarrelay.com
I had no intention of doing this race until about 2 weeks ago. My brother (a pilot who lives in Minnesota) said that he had two team members drop out of the race and he needed to fill the spots, so he asked if I'd be interested. I said no. Over the next couple of days, I really thought about it, and decided to go for it. My biggest fear is flying, and I knew I'd have to fly to Minnesota to do the race, so that is what I was worried about the most. I called my friend Stacie to see if she would do it with me, and she agreed (sucker!!)
My brother listed us on a late flight Wednesday night (we were flying stand-by on my brother's buddy passes). I was SOOO nervous to fly. My mom took us to the airport, and we got there early. We decided to have a couple of drinks before getting on the plane (to calm my nerves!) We went to a restaurant/bar at the hotel and I ordered a glass of red wine and Stacie got a pina colada. A really good-looking man sat down next to me and ordered a beer and dinner. Stacie and I were talking, and I said something that made her laugh. Her drink shot out her nose and all over the bar! It was hilarious. It even landed in the man's food, but he was really cool about it. He said, "That's the highlight of my trip!!" We started chatting, and I told the bartender I wanted to pay for the man's meal. (Side note: I have a list of 30 things I want to accomplish by the time I turn 30, and one of them is to pay for a stranger's meal at a restaurant. This was a great opportunity!) The man said absolutely not, but I insisted. He told me he'd buy me a drink on the plane, which was really nice of him!
We boarded the plane, and I was scared to death, but feeling better after the wine. True to his word, the man from the restaurant bought me a drink in flight. The flight was uneventful, which was a good thing! We arrived at MSP at around 11, and Brian (my brother) picked us up. We went to his house, sat in the hot tub, and had some more wine until about 2 AM.
THE PLANE: I'M MUCH MORE TERRIFIED THAN I LOOK!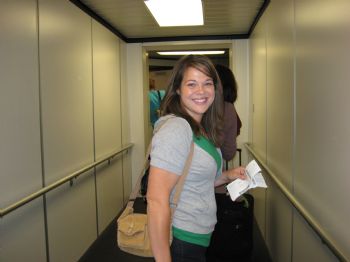 The next day, Stacie and I decided to go to the Mall of America for the sole purpose of riding a roller coaster there. It was really fun!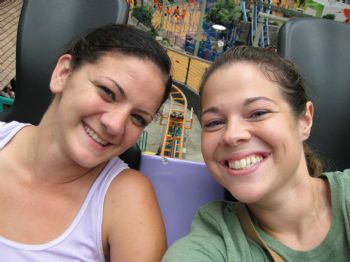 Then we got a frozen yogurt and went back to Brian's. We all went grocery shopping for the Ragnar, and I bought some healthy food: crackers, peanut butter, yogurt, carrots, nuts, peaches, bananas.
For dinner, we met up with the rest of our Ragnar team. Our team name was Max Continuous Thrust (with the exception of Stacie and I, the team was made up of pilots). I ordered the "Low Calorie Chicken Pizza" without the chicken. It was AMAZING--whole wheat crust with a tomato sauce, mozzarella, feta, and parmesan cheeses, caramelized onions, bruschetta topping... YUM! We went to the hotel to get some sleep for the race.
On Friday morning, we went to the start line. We had a 10 AM start. Our first runner was Tonya. She took off when the horn blew. Since it was Van #1's turn to run, we (Van #2) got to go back to the hotel and relax a little, eat breakfast, drink some coffee. Then we had to go to Checkpoint#6 to be ready for the hand-off to our van. Crystal was our first runner, and she had a REALLY difficult leg. The elevation went up about 2,000 feet in a matter of 5 or 6 miles. We met her halfway to give her water and cheer her on, then we went to Checkpoint #7. Crystal handed off to Brian. After Brian, it was my turn to run. Brian handed off to me, and I started running. It was just before sunset, and it was really pretty! I ran my 3.2 miles, then handed off to Marty. I changed my clothes in a bathroom, and later discovered I left my cell phone in there. (Some girls called my brother's cell from my phone, told them they found it and would give it to me at Checkpoint #12... they did). After Marty was Stacie, and then Jerry. Then our van was done for a while, and Van #1 started again.
At this point, it was pretty late (11?) We drove to Checkpoint #18 (where we would have to meet up with Van #1 after they finished their legs). This checkpoint was at a high school. The school was offering showers for $3, spaghetti dinner for $7, and sleeping in the gym for $3. I chose to sleep! There were about 100 people in the gym sleeping on sleeping bags. I spread out my bag and actually fell asleep pretty quickly. But I only slept for about an hour before I had to get up again. At around 3:30 AM, Van #1 showed up for the hand-off. They then got to sleep/eat/shower while we (Van #2) ran our legs.
My second leg started before sunrise, and finished after sunrise. I was SO tired and my pace reflected that. But I finished my 5.4 miles and actually felt much better afterward. After the 6 of us finished our legs, we went to Checkpoint #30 to wait for Van #1. Everyone decided to try and sleep--on the grass, in the van, wherever. Stacie and I walked across the street to a Borders to look around and kill some time. Ate lunch at the van, rested a bit, and then it was time for our LAST legs of the race.
My last leg was at about 2 PM. It was still a little overcast when I started, which was nice. Not too hot, and my leg was right along the Mississippi River. At the end of my 4.2 mile leg, it was REALLY hot. I was THRILLED to be done though! I could just relax in the van and cheer on my team. Our last runner was Crystal. She had to run 6 miles and it was SO HOT.
We drove to the finish line and waited for the announcer to say that she was on her way. When she was about 200 yards away, the whole team went to her and we all ran across the finish line together. Crystal kept saying she was going to throw up, and she called a cab to leave right away. I felt so bad for her! There was free pizza and $2 beers at the finish. I ate 1 piece of pizza and had a beer. I bought a couple of shirts, too--a hooded sweatshirt that says "Run. Drive. Sleep? Repeat." with the Ragnar logo on it. And I got a t-shirt that says, "200(ish) miles, 36 legs, 12 friends".
We crossed the finish line at about 5, and our flight was at 9 (we had to be there at 8). After our pizza and beer, we went back to Brian's, took a super quick shower, and then headed to the airport. I got stopped for a while at security--they confiscated a can of pumpkin from my bag! LOL I had bought it at the grocery store in MN because we have NO canned pumpkin in MI--and I was so excited to find some that I bought a can to bring home. But security took it from me.
We ended up getting first class on the way home, which was cool. Of course I couldn't pass up free drinks! I just had a glass of red wine. And a Reese Cup, because that was free too... not the best choice, but I was so exhausted I didn't care.
The race was SO AMAZING, and I met some really great people. I'm really thinking about doing it again next year--maybe in Chicago or Boston. It was a great time, and I'm so glad that I got suckered into doing it :)
Some more pictures:
This is team "Ragnar 911"... they were SO funny!!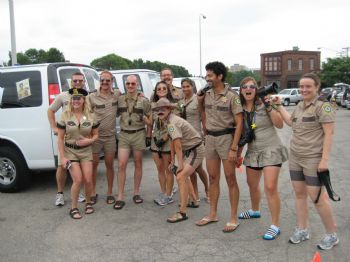 Our team at the starting line (we were missing 2 people). I'm on the left: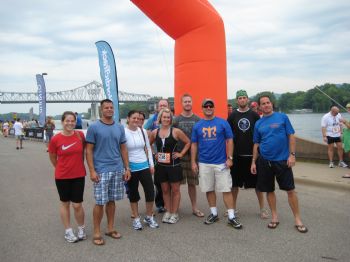 The course map: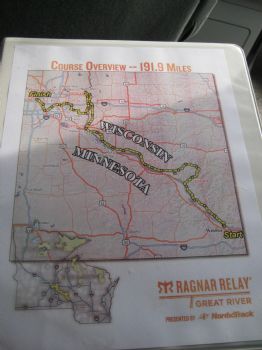 Van #2 of Max Continuous Thrust: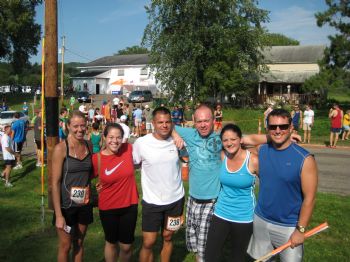 My brother handing off to me, for my first leg: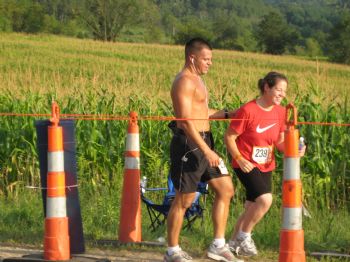 Running my first leg: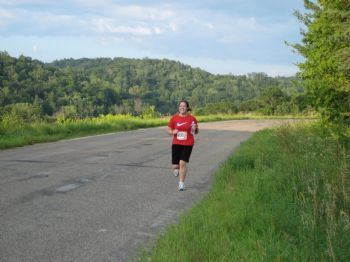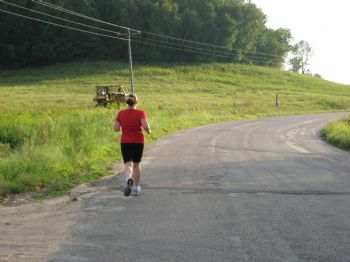 Just before my second leg... it was about 4 AM, and REALLY foggy!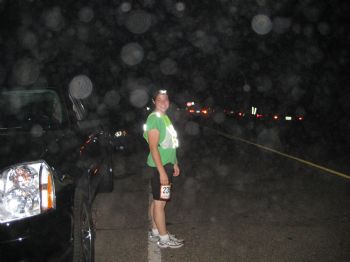 We were required to wear these vests and a headlamp while running in the dark:
Stacie and I were in fresh clothes and ready for our third legs: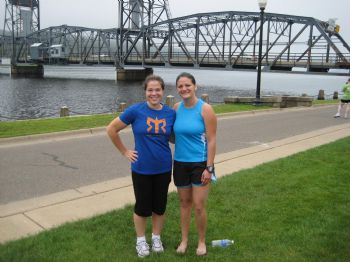 My third leg. My brother was giving me water. I wasn't nearly AS miserable as I look here!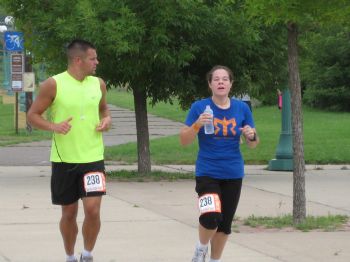 DONE!! My brother and I.