Finished Week 1 of C25K Friday.
Today I woke up and it was raining. I thought about going out in the rain, and didn't really want to. I wrote about it on my status. But I knew if I didn't run, I'd do something else today, so I got my workout clothes on, capris, tight sports tank, and sports bra beneath, sports socks (stretchy elastic around arch and toes). The i get on the C25K website to find out what week 2 looks like.
Week 2 of Couch to 5K goes like this: 3 days, with days off in between
5 min brisk walk then run 90 seconds, then walk 2 min - repeat for 20 minutes.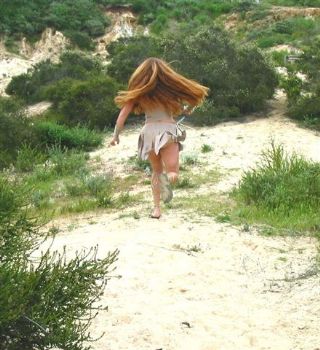 They also had a page on stretches, so I did the stretches and talked myself into running. Put on my HRM chest strap and wrist watch and set off.
Start the timer. Flip it so the sensors and watch face are on the inside of my wrist. I had a feeling that the sensor wouldn't like the water too much. Start at a brisk walk for 5 min. Then not even 100 meters (yards) from my house, I said/thought something derogatory to myself about something that I was thinking, and I stopped that thought and then began thinking why I said that about myself. The answer, I didn't really mean it, it was just a knee-jerk reaction in a negative moment and to keep going, I made myself say something nice about myself (running in the rain on a Sunday when my son is at Grandmas and when I could be sleeping in, yay me). But you know what? I don't even remember what that negative comment was, just that I stopped the thought and thought about why. (This all happened in about 2 seconds)
It was 8:30am and no traffic on the road (read 2 lane highway), so I ran close to road where its more level. The rain is cold and dropping on my bare shoulders making me shiver. My feet slish through the soaked gravel. slish slish slish
I look at my watch 4:55 almost time to run! The rain is pattering on the pavement, and the leaves of the trees on the other side of the road. The rain is still cold, but not making me shiver anymore. RUN!! I'm to run for 90 seconds, that means I stop at 6:30. so as I breathe in and out, I think 6:30, 6:30...... one foot in front of the other, look down at my watch !FRACK! stupid rain and watch! telling me that I'm touching it , trying to get a HR, when I am not touching it! I think I'm close to 6:30, I press a button.....6:45. eh, well. Now I walk till 8:30. this goes on for a few more repetitions. I smell worms, mud, the coconut body lotion I put on yesterday.
I see a blue card in front of me. I pick it up. Its from a wallet that fell to the ground Friday while I was running. (Side story: the dairy is on my route and a lady had her wallet with her, put it on the roof of the car as she was putting other things in the car and then got in the car and drove off. Wallet is still on the car, blows off just down the road and all the cards fall out and are blown all over the road. I was running then and picked up the cards I saw on my run, thinking I'd take them to the dairy on my way back. When I get to the other side and begin to run back up, I see 2 cars on the side of the road. from one, a guy had found the wallet and was collecting more cards. From the other, the lady who lost the wallet. I stopped, gave her the cards, told them where I found the 10 cards and kept running, thinking that they must have them all by now.) So I'll take the card to the dairy (who have the lady's phone #) and she can come get it.
I run across the road at my turn around point and keep going. 90 sec run, 2 min walk. inhale-2 steps, exhale 2-steps. There are some cars on the road now, rushing through the rain and wet pavement. I run past the dairy, its still closed. I run past a propane depot and a dog barks. All of a sudden I get a sharp pain in my ribs! Stitch! crap. Look at my watch....30 sec left till I can walk, so I slow my pace. then I can walk. I stretch my side, know its most likely because I need water, slow my breathing, and stretch more. 2 min are up. I run again, only a memory of the stitch this time. But my pace is slower, and so is my breathing and I'm more conscious of my side.
So close to home now. The stitch came back. I walk and stretch. Then I can see my road, my house! I walk 90 seconds then will run the rest of the way to my road then walk to my house. I CAN do it. I run, slowly, then walk. Home!
Thank goodness.
Wet stuff off, towel dry. stretch. Spark. Shower. Breakfast. rest.
REST now.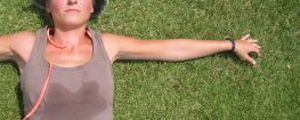 I ran/walked 4.19 km in 31 minutes (2.6mi in 31 min).
xxoo
Edit: Disclaimer- neither of these pictures are me, since I do not run in skirts, and obviously, it was RAINING when I ran today. LOL