My former boss used to compare me to "Chinese water torture" when people would ask if I was focused.

LOL. I don't really think of myself as focused per se because I flit from thing to thing so quickly. I can get myself side tracked by simply blinking. But, I do admit, that when I want to get something done, when the inspiration hits me, I do get hyper focused. I can spend hours on something and not get tired of it. I remember once I sat down to do a jigsaw puzzle with a friend. It was a 1000 piece project that took us about 8 or 9 hours to do... and we started at about 9 in the evening and did not stop until we were done when the sun came up the next day. I guess that is kind of focused. DH puts up with me when I get like that in the garden. "One more minute" often turns into hours without my realizing it.
Same goes with trying to find something that I really want. I'm pretty good at finding what I want, but sometimes I just get stumped and come up empty handed. I was rather disappointed when back in July I had been decorating my bike helmet and my TRI bucket for my practice triathlon. I had gotten it in my head that I wanted a propeller for my helmet. I wanted a fun reminder that my journey is about enjoying the ride, enjoying the moments, enjoying the grins. So I looked and looked and looked for my propeller: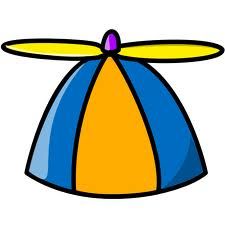 I searched high and low and all around for a propeller... every craft store around, every bargain store I could think of, second hand stores were visited... I even decided that a pinwheel might serve as a good stand-in and came up empty handed there too!

Not to be completely defeated, I decorated my helmet with little butterflies... a good temporary stand-in for the first practice run, but I never let the thought of the propeller fade too too much.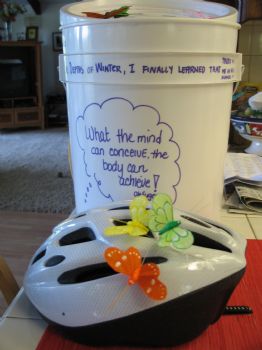 Each time I was out doing errands, I would look for little stores that just might have the object of my focus. Sadly, nothing....... until yesterday! I am excited to report that I FOUND IT!! YessireeBob, I finally got myself a propeller!!!!!!
Here's what happened: I was on my way home from an errand with my daughter when I spotted a party store. Hmmm. I wonder if they have a propeller? I wandered in, with my honing beacon on high alert. Up and down every single aisle with one singular purpose. Aisle #1.. nothin'. Aisle #2... same. Aisle #3... nope. Aisle #10... what? nothing still? ARGH!
I spot a salesperson who looks barely out of 8th grade but she smiles and I hope. I ask her if she might know if somewhere in this huge store they carried little hats with little propellers. (No, I did not explain why!) She ponders a moment and says that last year they had some for Halloween but the Halloween items are not out yet. Maybe I looked desperate but this nice young lady said she would go in the back to look, just in case. REALLY?? For me? What a hero!
My hero went in the back and FIRST thing she runs across are the funny little hats with propellers... and not just ONE but dozens of them.

I had my PICK of colored hat! Well, the hat is not the point for my so I just picked the first one she found. LOL... I left that store with the biggest grin and of course, I had to call DH to report my golden find for the day. I'm sure he shook his head because of my silly focus on this dang propeller... but I told you, when those thoughts get in my head, I don't let them go!
I got home late and of course had to show DH my treasure. And only as a retired Boeing engineer can do: he inspected it. He asked me to take a quick run around the kitchen so he could see how the air would make the propeller spin. Oh the things that make him happy! Unfortunately, it did not make him too happy since the prop was scarcely moving. Actually that was not my point, but he is a retired engineer from Boeing, so it DOES matter to him! So he is on his own mission now: how to alter the propeller so I will get the best spin on the entire TRI course!! He already describe how a simple clip here and nip there will give the propeller a more aerodynamic design. LOL!!!!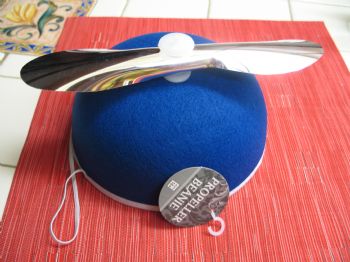 it is that silly grin that I had leaving the store and reporting in to DH about my little treasure that I want to have when I start my TRI, do my TRI and conclude my TRI. This journey for me is about enjoying the ride. And .. I'm down to the wire. I can feel the excitement beginning to mount. I have to get a few more good training workouts in before the big day in FIFTEEN days but I can now relax on the propeller goal!
QUOTE: (repeat but today it seems to fit nicely)
"The most wasted of all days is one without laughter." ~ E E Cummings
MANTRA: Faith. Fit. Focus.
TRI-ing: A total of 99 days to train.
Today is Day 84. Days til race #1: 15... YEAH!
Training: 5K run.
PHOTO OF THE DAY: Wouldn't you like to see the paint brush that does this every morning!