8/8 Sun: 5 miles/55 min (road), 20 min strength training (JM LCW)
8/9 Mon: 3.2 miles/32 minutes (road)
8/10 Tue: 30 min elliptical, 30 min circuit (8 min Abs & Arms)
8/11 Wed: 6.1 miles/61 min (road)
8/12 Thu: 30 min yoga (JM YMD), 24 min low-impact aerobics (Slim in 6)
8/13 Fri: 5 miles/52 min (road)
8/14 Sat: REST (beach day with BFF CURLSPR!!) Had a great time. Much needed R & R.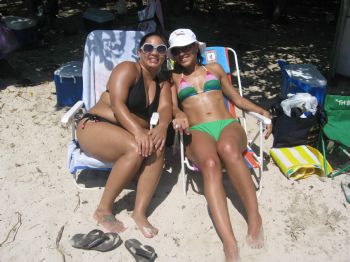 8/15 Sun: The Green Race 5K in Maunabo, PR. 3.1 miles in 25:56!! NEW PR!!
Loved this race! And not just because I set an awesome PR *WOOT, WOOT * and beat my husband yet again *GO ME, GO ME *! I went with my hubby, son and running friends. It was the first edition, well organized, festive, and had over 1000 participants. Recyclable goodie bags, a shiny green medal and a tree for every participant to cross the finish line. The course had 2 tough inclinations, went through 2 underground tunnels (FUN- everyone was shouting and whistling) and surrounded by luscious green scenery of mountains! The HEAT, however was BRUTAL! I thought I was going to pass out and I had lots of trouble adjusting my breathing. But I pulled through and made it and couldnít be happier or prouder.
The numbers:
Gun: 26:53
Net: 25:56
8:40 avg pace
317 of 1087 Overall
7 of 107 Females 30-39 Ö.!!!!
Two weeks Ďtill my 16 miler!!! AHHHHH!! One final long run (10 miles) scheduled for this weekend and itís taper time. Canít wait! I have no idea what to expect. I did great in my first half marathon in June; but then again it was NOT in the Puerto Rico HEAT and tropical HUMIDITY! It was on a cloudy (and chilly) 63 degree summer day lakeside in Chicago. I know it had everything to do with the how great I felt and performed. And I know that will not be the case here even if the race does start at 5:30 am. I finally bought Sport Beans and have tested them out. Yummy!! I never used any special fueling in previous long training runs or the half but Iím definitely going to this time. I may even strategically walk through the water stops. The competitive part of me really wants to make it by 2 hr 30 min but Iíll be just as happy and satisfied by simply feeling the enormous sense of joy and accomplishment that comes with crossing that finish line regardless of the time! And to participate in such a noble cause is even more rewarding.
Have a great week Sparkpeeps!