Does it get any better than this: I pull in after three months *on the road* around noon yesterday, pull myself together, gather gifts and take off for festivities with dear friends for three birthday celebrants at Ellen's fabulous hilltop *Tree House* (so called because it's built on a hill up among them) whose kitchen window looks out directly at Pinnacle Mountain.
Ellen, one of the birthday girls, who is the hostess-with-the-mostest with Chloe!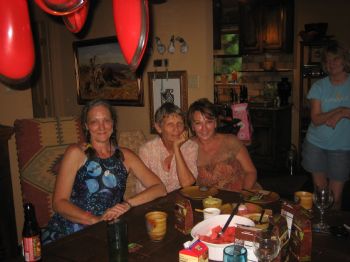 Me with two of the birthday girls, former housemate Janice and Ellen.
The third birthday girl, Gail on the left, with Fritzie in the middle, and Pat, who shaved her head in solidarity with a dear friend who is grappling with breast cancer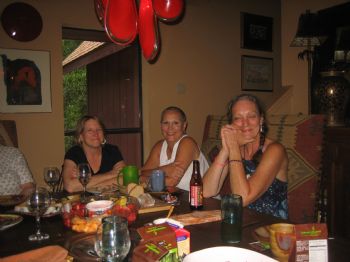 Fritzie, Pat and (blinking) Janice again. The first celebration was for my birthday, held at Fritzie's place. I blogged about it back-when:
www.sparkpeople.com/mypa
ge_public_journal_individu
al.asp?blog_id=2912276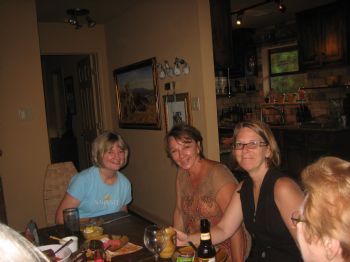 Anne Avant, famed and favorite Iyengar Yoga teacher, Ellen, and Amy (just back from 3 weeks in Bulgaria...and earlier in the summer yet another trip to China). After the February celebration, Anne sent an email out to everyone and said we should keep doing this periodically...and the next one was held at her place last May!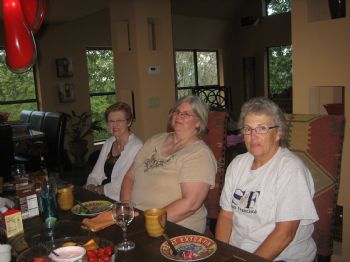 Johnye (Janice's mom and the matriarch of the group), Pam who, instead of completing her PhD in English Lit, got practical and picked up an accounting degree and ultimately became a CPA -- fortunately, I think, she has stopped playing with numbers and is back to playing with words...she is the quintessential wordsmith!), and Camille (who finished the semi-finals game of a tennis tournament in time to join us). Camille started the prison project and Pat, Gail, and I volunteer in it with her.
Some kitchen action.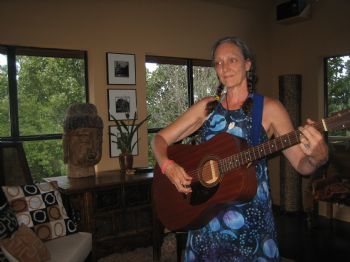 Here Janice, just back from two months camping and volunteering for the National Park Service (she and her sister Judy lead light house tours where they stay at Devil's Island in Lake Superior) at the Great Lakes, is singing the song she wrote for Ellen and Monroe's wedding, was it three(?) years ago (one of those storybook romances...lucky Ellen!)
Unfortunately Judy missed the celebration because she was on-call at the hospital. (She's a pediatrician.) SparkFriend Sandra also missed it because she's in Wisconsin helping her mom post-op; Jean and Pamela are also in WI...visiting friends and family; Siaw Khian is visiting family in Malaysia and Marilyn is in Missouri, supporting her mom, whose partner is very ill.
At our next celebration Johnye will be celebrating her EIGHTIETH! I wish this was lighter...I swear she looks longer than me! (ROTFLOL!!! Gotta' leave that typo -- since at almost 6' tall, she is DEFINITELY "longer" than my 5'3" and she looks YOUNGER than me too.) Mid-life Johnye decided she wanted a PhD, finished it and proceeded to join the faculty of the English Department of U of AR and taught English Literature for many years there. And it makes my head spin to think of everything she's involved in now! Is that the formula Johnye???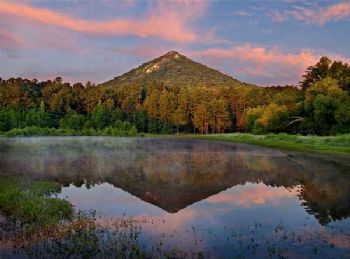 Pinnacle Mountain at sunrise
www.visionmena.com/Arkan
sas_State_%20Parks/pinnacl
e_mountain_state_park_in_a
rkansas.htm










A FRIENDSHIP BLESSING
May you be blessed with good friends.
May you learn to be a good friend to yourself.
May you be able to journey to that place in your soul
where there is great love, warmth, feeling, and forgiveness.
May this change you.
May it transfigure that which is negative, distant, or cold in you.
May you be brought in to the real passion, kinship, and affinity of belonging.
May you treasure your friends.
May you be good to them and may you be there for them;
May they bring you all the blessings, challenges, truth, and light that you need for your journey.
May you never be isolated.
May you always be in the gentle nest of belonging with your anam cara.
-- John O'Donohue, from Anam Cara
(Anam cara is Gaelic for "soul friend")