Mi Pie Esta Rota
Thursday, August 12, 2010
My friend Claudia taught me how to say that. It's Spanish for My Foot Is Broken.
I now have an orange cast on my foot and I have been told I cannot cycle. Or drive. So no midday trips to Starbucks when I'm having a bad day. Oh shoot - can I say that on SP? Yes, I get Starbucks when I want to feel better, but also when I just want Starbucks. ;) I get a 2% latte with 1 pump of mocha syrup - 4 pts (for the Venti) in WW. No whip of course. Or sometimes I get a Starbucks "Double Shot" with only 2 pumps of Classic syrup, 2% milk, and an extra shot. 3 pts. So I am aware of what I'm getting and I fit it into my day.
But this wasn't supposed to be a conversation about Starbucks, but about my frustration over the fact that I now can't really exercise and I can't even properly weigh myself. Not for at least 4 weeks. The cast should come off about then.
It's a heavy fiberglass cast but I have no idea how much it weighs. So if I get on the scale I don't know what to subtract to get my actual weight. For 4 weeks. And I can't cycle. I can barely walk. I'm not sure what I'm going to do. I'm supposed to stay off my foot. How does one exercise and stay off their foot?
I'm just feeling a bit defeated right now. But as much as I want to just say heck with it and eat ice cream and candy and anything I want, I'm staying on track with my diet at least. Well, diet - maybe that's the wrong word. I'm still making healthy choices and trying not to sabotage myself.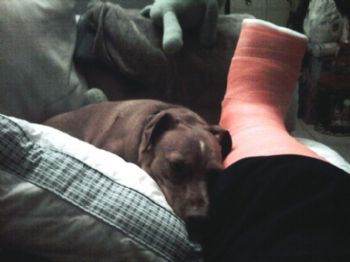 This is my dog Sophie, she's sad because I can't take her on nice long walks anymore, not until my cast is off. I can try to walk her maybe in a week or so, but I'm slooooow. So my husband is now taking her on her morning and evening walk, and in the afternoon I let her hang out on the Patio.
This is just not a fun situation. I am not having fun.