The race started at 8:15 and it was very hot. My first race was at 7:15 and it was a over cast that day.
The course was allot different then the last one the way it was set up. They had your time for the first mile and that was it. I have a Iron man watch that I count on and forgot to start it at the start line but I figured no big deal they told you the times at the last race but that wasn't the case. I was threw off mentally by the time thing ,the heat and the course repeated itself. It's a mental thing at least for me.
About half way threw I decided that I didn't feel like I was going to bet my time but heck at this point the heat was making me sick and I would be happy to just finish.
When I hit the 3 mile marker I could see the clock and was shocked to see the time was at 33:30. I then started RUNNING my heart out to get there. I finished and I beat my time I was so thrilled.
After the race they had doughnuts at one end of the table and Bananas & oranges at the other end. The guy who came in first of course had 2 doughnuts. I think he ran from what I remember hearing a 5:47 mile I guess he could burn that quick running like that. I just stuck to half banana and a orange.
As we where standing there my girlfriend said what is that board that everyone is around looking at?? I had no clue but waited and when it cleared out some we walked over to see what it was. It was the race results from the race (they do things quick these days) of the top finishers. I was curious to see my age group 40-44 what the times where. HOLY COW my name was on the list I was in shock I was 3rd
FEMALE AGE GROUP: 40 - 44
Place O'All No. Name Age City St Time Pace
===== ===== ===== ======================= === ==================== == ========= =====
1 51 827 Susan 44 West Melbourne FL 26:50.8 8:39
2 67 832 Christine 44 Indialantic FL 30:03.0 9:41
3 92 866 Lisa 43 Melbourne FL 34:54.6 11:15
4 107 875 Yvonne 44 Rockledge FL 38:21.7 12:21
5 131 859 Vicki 41 Palm Bay FL 53:11.3 17:08
6 148 833 Yvonne 40 Palm Bay FL 57:21.8 18:28
7 155 861 Kristina 40 Palm Bay FL 59:02.2 19:01
I then found out that they give a 3rd place ribbon.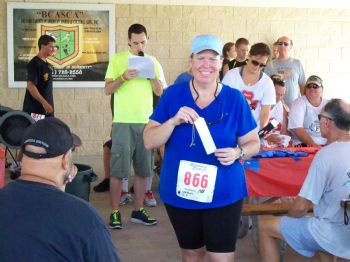 Proudly getting my ribbon.
My last 5k will always be the most memorable but this one is going to be very special it was a smaller race so less people with the better times but hey I'll take it.
My next race My son wants to do with me and that will be VERY VERY special as well !!!